Tags
Related Posts
Share This
DEPRAVED HEART by Patricia Cornwell Reviewed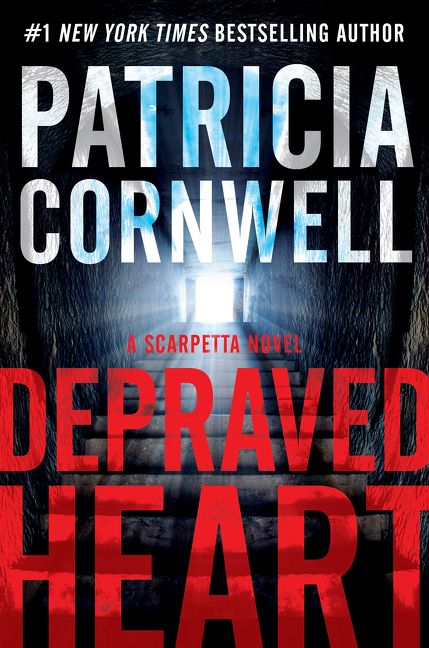 DEPRAVED HEART
Patricia Cornwell
William Morrow
October 27th, 2015
Depraved Heart by Patricia Cornwell combines suspense with modern day forensics to make a riveting story.  This is the 25th anniversary of the hugely popular Dr. Kay Scarpetta series.  People forget that Cornwell was on the forefront, one of the people most credited for launching the interest in forensic research, about a decade before the CSI TV Show.
Having worked in a Medical Examiner's office Cornwell is able to create an informative and realistic story.  In her latest novel she not only explores a murder, but also examines government overreach, the influence of technology, and data fiction.  In today's world the term coined by the author, data fiction, examines how digital data including texts, posts, images, and videos, can generate a new fictional reality, similar to Star Trek's Holograms.
This psychological thriller ramps up the suspense from the very first page.  The plot starts two months after the last book, Flesh and Blood, ended.  Dr. Kay Scarpetta determines that the body found in a house is not an accidental death, but appears more like a murder.  While working this investigation she receives a mysterious text, supposedly from the cell of her niece, Lucy Farinelli, with a video link showing Lucy's FBI dorm room almost twenty years earlier.  Through these videos readers learn more about Lucy's backstory, her time at the FBI Academy.  Because the links are sent by Carrie Grethen, Dr. Kay's nemesis, and they contain potentially incriminating material, Scarpetta races to Lucy's house to get answers, only to find more questions.  The FBI is there, with a search and seizure order, turning Lucy and Dr. Kay's life upside down.  It is up to Kay to find answers before Lucy is arrested.
A powerful quote in the book shows how people are dependent on technology, but that it sometimes can be used for devious purposes, including taking away someone's privacy.  The whole essence of this story warns that every detail of a person's life and business can be compromised, and that people will lose the ability to communicate because of the fear of who can be trusted.  In the novel, Scarpetta comments, "Technology made everything better for a while and now it seems life is circling back around to the dark ages… I miss paper and pen.  I miss face-to-face conversations."
Although readers might want to read the previous book, after a few pages into this book, Depraved Heart, they will be mesmerized with the plot and captivating characters.  The story is full of twists and turns creating a page-turner that the reader will not want to put down.
Elise Cooper