Tags
Related Posts
Share This
DOWN THE DARKEST STREET by Alex Segura Reviewed
DOWN THE DARKEST STREET
Alex Segura
Polis Books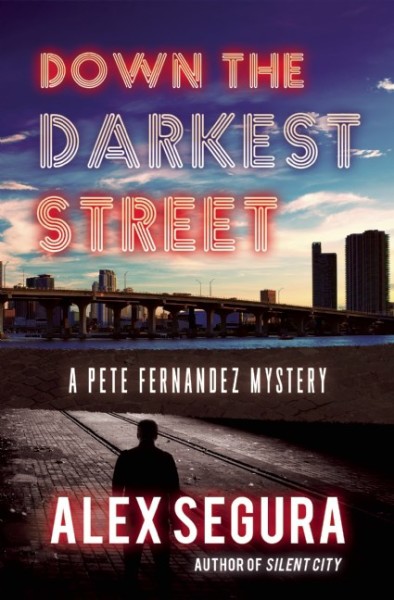 April 12, 2016
When we left Pete Fernandez at the end of Alex Segura's debut novel SILENT CITY, he had just uncovered the identity of the serial killer the Silent Death and rampant corruption in the Miami police department. In the process, he lost his best friend, his job as a sports copy editor with The Miami Times, and a little of himself.
DOWN THE DARKEST STREET opens with Pete hitting rock bottom and enrolling in Alcoholics Anonymous. To say that life has been challenging since the Silent Death crashed into Pete's world would be an understatement. At this point, Pete is doing everything he can to keep his head above water and maintain some sort of sanity. When a girl goes missing, Pete gets pulled into the investigation by his friend Kathy, a reporter with The Miami Times. It appears that a serial killer has once again set his sights on the city of Miami. Pete and Kathy need to figure out who is killing young women before someone close to them gets hurt.
Alex Segura has crafted a protagonist you want to cheer for. Like I said earlier, Pete Fernandez faced some serious challenges in SILENT CITY, and things aren't any easier for him in DOWN THE DARKEST STREET. You can see that he's trying his hardest to make things right after his best friend died. Pete isn't quite sure how to do this, but he's going to do what he can. Maybe stopping the serial killer can help Pete find the redemption he so desperately needs.
The city of Miami is just as much a character in the book as Pete and Kathy. Segura shows the reader a side of the city that most tourists would miss. He takes the reader from the bars and restaurants near the University of Miami to the Cuban neighborhoods to the strip-mall and chain restaurant filled suburbs. There's more to Miami than the pastel-colored beachfront hotels. There's a seedier, darker side to the city.
What I really enjoyed about DOWN THE DARKEST STREET is the split narrative between Pete and the serial killer. The majority of the book focuses on Pete and his investigation (it is a "Pete Fernandez Mystery" after all), but Segura gives voice to the serial killer. Segura gives the reader brief glimpses into the mind and motivations of the killer. These sections are well paced and don't give away too much about the villain. I'll admit, I fell for a red herring. That is the sign of a great writer.
DOWN THE DARKEST STREET is a story about one man trying to stay one step ahead of his past and make a new life for himself. In Pete Fernandez's attempts to save young women in Miami from a serial killer, he just might save himself in the process.
Kate Malmon