Tags
Related Posts
Share This
Drew Chapman is featured in this week's giveaway
Crimespree Magazine,  in conjunction with Friday Reads Facebook page,  is giving away copies of Drew Chapman's THE ASCENDANT.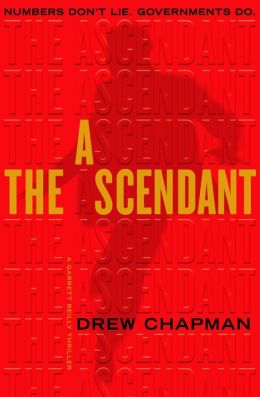 "Like his intriguing protagonist Garrett Reilly, author Drew Chapman possesses startling skills and this first novel just blows the doors off. THE ASCENDANT is a rollicking, globe-hopping, timely, and prescient page-turner—a twenty-first century thriller" (C.J. Box, New York Times bestselling author of BREAKING POINT and THE HIGHWAY).
Numbers don't lie. Not according to Garrett Reilly who, just two weeks past his twenty-sixth birthday, thinks he's probably the best bond analyst at his brokerage—maybe even the best in all of Manhattan. Garrett's memory for numbers is photographic. But he doesn't just memorize them; he sorts them, ranks them, senses patterns in them. As he watches buy and sell numbers float across his Bloomberg terminal, Garrett notices what nobody else can: that US Treasury bonds are being sold off at an alarming rate—two hundred billion dollars' worth. It's a discovery that he knows will make him incredibly rich.
Then the United States military arrives at his office, and Garrett's life is blown to pieces. As Captain Alexis Truffant explains, Garrett has stumbled upon something much larger—and scarier—than he could have imagined: the first attack in a covert war of unthinkable proportions. His biggest problem? Numbers don't lie…but governments can.
In this taut and cunning novel, Drew Chapman takes readers into a scenario that is eerily plausible and utterly terrifying—an unconventional war capable of bringing a superpower to its knees. The Ascendant is a brilliant new twist on the art of the white-knuckle thriller.
Drew Chapman
The basics: Born in Brooklyn, a product of New York City public schools, both good and horrifying. Father was a cinematographer, mother was a schoolteacher – still is, actually – and also published a novel.
Left the city at 17 and really haven't returned except to visit. Mostly lived on the West Coast – Bay Area briefly, LA for a long time, and now Seattle. Held a lot of jobs: bike messenger, knish vendor at Yankee Stadium, location scout for TV commercials, bartender at a Greek restaurant.
A little elaboration: Mostly I've been a writer. For newspapers, for feature films, for TV and now a novel. Started my career as a staff writer for Disney Animation, lasted six weeks, got fired. Landed my first feature job with Amblin Entertainment – got fired from that one too. What I learned from those experiences was, a) screenwriters get fired a lot, and b) don't write for other people — figure out what you're crazy passionate about, and make that your life's work.
To be entered in the drawing shoot an email over to Jon?@crimespreemag.com (remove the question mark) And put CONTEST in the subject line. Also please put your address in the body of the email.
We will pick the winners on January 10th
When we do the drawing we will be sending an extra something for one lucky winner to be picked from the comments section of the Friday Reads face book page, so after you enter, go leave a comment!