Tags
Related Posts
Share This
DVD gift ideas
BURN NOTICE: The Complete Series
Fox Home Entertainment
Over the course of seven seasons, Michael Westen and company have battled crime lords, drug cartels, shadowy government organizations and international terrorists. When the series begins, Michael (Jeffrey Donovan) is a CIA operative that has just been burned. He not only loses his job, but finds his assets frozen and his passport revoked. He is not stuck in his home town of Miami with no idea what has happened or who did this to him. He first strives to find out what happened, then works on getting his old life back. He is assisted by Sam (Bruce Campbell), an old CIA buddy and Fiona (Gabrielle Anwar), an ex-girlfriend that has shed her life in the IRA and is now a arms dealer.
With great performances by Donovan, Anwar, Campbell and Sharon Gless (as Michael's mother), BURN NOTICE did a fantastic job of mixing humor and action. BN is the kind of show you can go back to down the line and revisit.
SRP: $149.98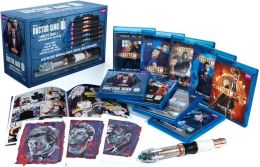 DOCTOR WHO: The Complete Series 1-7 Limited Edition Blu-Ray Gift Set
BBC Home Entertainment
I don't know about your household, but Doctor Who is much beloved in the Crimespree world. This 29 disc set includes the complete adventures of the Ninth Doctor (Christopher Eccleston), Tenth Doctor (David Tennant) and the Eleventh Doctor (Matt Smith). This is the first time the Eccleston and Tennant episodes have been remastered for HD. Extras include hours and hours of bonus features from the past collections plus 2 hours of material that has never previously been available. And to top it off, a Sonic Screwdriver Universal remote control, 3 exclusive original art cards and an exclusive Doctor Who comic book. The price is steep, but you get a lot of bang for your buck.
SRP: $349.98.
Robotech: The Complete Set
Lionsgate Home Entertainment
Robotech tells the story of humans defending their home world against alien domination. The saga is told through the eyes of characters caught up in a series of wars that erupts when a mysterious spacecraft crash-lands on Earth at the turn of the millennium. The secrets of alien knowledge aboard this vessel were unlocked, leading to the development of "Robotechnology" and the creation of a vast arsenal of robotic "mecha" to defend the Earth against the alien threats that would eventually strike to lay claim to the mysterious power source known as "protoculture."
Since the show is from the mid 80s, this is likely only for the 40 or older crowd. This set includes all of the episodes as well as the three movies (The Sentinels, The Shadow Chronicles and Love Live Alive).
For extras, we get 2 new featurettes (Robotech: The Inside Story, The Making of Robotech: Love Live Alive) deleted and alternate scenes, rare promotional reels, the original Japanese version of Love Live Alive, trailers, and all the special features from the previously released DVDs.
SRP: $89.95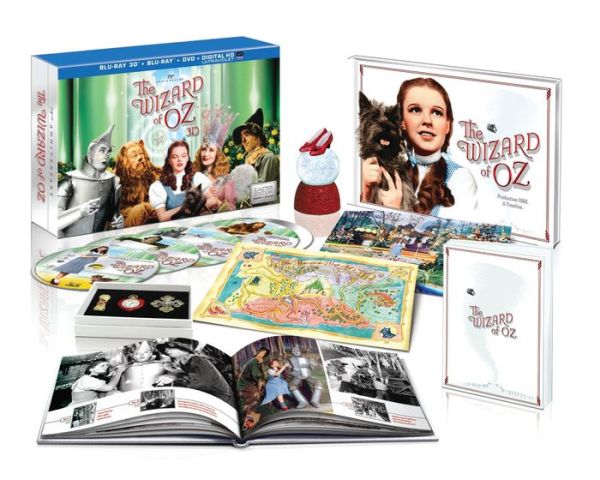 THE WIZARD OF OZ 75th Anniversary Collector's Edition
Warner Brothers Home Entertainment
I admit I am not a big fan, but this set is pretty impressive and will wow fans of this classic.
This 5 disc set includes Blu-ray, Blu-ray 3D, DVD and UltraViolet versions of the film; a new documentary (The Making of the Wonderful Wizard of Oz), a number of collectibles (A 75th Anniversary journal, Sparkle Ruby Slippers Globe, Noble Collection three-piece enamel pin set, a map of Oz and a 48-page hardcover book)and it brings over features from the previous DVD releases.
SPR: $105.43