Tags
Related Posts
Share This
DVD Releases for Aug 18th.

The Beast: Season 1 (2009) Patrick Swayze, Lindsay Pulsipher, Travis Fimmel, and Kevin J. O'Connor. Three-disc set with 13 episodes, $39.95. Extras: Thirteen behind-the-scenes featurettes. (Sony).
"Patrick Swayze is back and gunning for justice as Charles Barker, an unorthodox but effective FBI veteran in The Beast. Though considered by many, including rookie partner agent Ellis Dove (Travis Fimmel), to be the best in the business, FBI undercover operative Barker has a style that is nothing if not unconventional. In pushing Dove to immerse himself more deeply into the characters they create, Barker makes it clear how the stresses and dangers of working undercover make normal relationships impossible. As he and his mentor are tested by cases that pit them against ruthless drug lords, dangerous arms dealers, corrupt cops and deadly killers-for-hire, Dove also struggles with his own secret: he's being asked to cooperate with an FBI investigation of Barker, who's suspected of going rogue. And as Dove is pressured to become an informant, Barker launches his own investigation into a conspiracy within the Bureau that's protecting a secret cadre of agents operating outside the law."



Dexter: The Complete Third Season (2008) Michael C Hall, Jennifer Carpenter, Julie Benz, Jimmy Smits Four-disc set with 12 episodes, $42.99 (DVD), $54799 (Blu-ray). (Paramount).
"DEXTER is back and more killer than ever. The Emmy-nominated Showtime Original Series (Best Drama Series, Lead Actor in a Drama Series) returns for an all-new season – and this time Dexter's got a new take on taking life. Having faced some of his darkest demons, Dexter's ready to put the past behind him. Now, with family life, a day job catching killers and an uncontrollable urge to do away with the ones that get away, Dexter's got his work cut out for him. And when a high-profile case sides him with powerful Assistant DA Miguel Prado (special guest star JIMMY SMITS), the pressure might be too great for even our beloved Dexter to hack."

The Last Starfighter 25th Anniversary Edition (1984) Lance Guest, Robert Preston, Dan O'Herlihy, Catherine Mary Stewart. Extras: "Heroes of the Screen," "Crossing the Frontier: Making The Last Starfighter," commentary by director Nick Castle and production designer Ron Cobb, image gallery. $19.98 (DVD), $29.98(Blu-ray). (Universal).


"Greetings, Starfighter! You have been recruited by the Star League to defend the frontier against Xur and the Kodan Armada." So begins an adventure of galactic proportions in The Last Starfighter. After Earthling Alex (Lance Guest) conquers the Starfighter video game, he is recruited by alien Centauri (Robert Preston) to be part of an elite legion of fighters. Leaving behind his trailer park home for the outer regions of space, Alex becomes the last hope for the beleaguered Star League and hundreds of worlds – including Earth. Loaded with out-of-this-world bonus features and digitally remastered for optimum picture quality, The Last Starfighter 25th Anniversary Edition is the ultimate video game fantasy come true!"
Simon & Simon: Season Three (1983-84)Gerald McRaney, Jameson Parker, Tim Reid Six-disc set with 23 episodes, $49.99. (Shout! Factory).
"Season Three finds Rick and A.J. facing trouble again in beautiful San Diego, CA, on the trail of missing radio personalities, crooked magicians, gamblers, horse smugglers and murderers. Together the Simons put their street smarts and book sense to good use in a brotherly one-two punch, leading to some action that is not always pretty and, for sure, not always friendly, but ultimately gets the case solved. Season Three would introduce Tim Reid as Detective Marcel 'Downtown' Brown and featured guest stars James Avery, Michael Constantine, Mario Lopez, John Reilly and more."
The Simpsons: The Complete Twelfth Season (2000-01) Four-disc set with 21 episodes, $49.98. Extras: Introduction by Matt Groening; commentaries on every episode with Groening and executive producers,writers, actors and directors; deleted scenes; animation showcases; original sketches; special language feature; and more. (Fox).


Sons of Anarchy Season One (2008) Charlie Hunnam, Katey Sagal, Mark Boone Junior, and Kim Coates Four-disc set with 13 episodes, $49.98 (DVD), $59.99 (Blu-ray). Extras: Behind-the-scenes making-of featurettes, cast and crew commentary on select episodes, deleted scenes, gag reel. (Fox).
"The writer of the Shield and the producer of the Sopranos bring you the most ruthless adrenaline-packed new drama of 2009. With over 40 minutes of unaired scenes, the DVD takes you even deeper in the unexplored world of this outlaw Californian Motorcycle Club as its members struggle to balance family life and weapon-trafficking business."
Surveillance (2009) Dir.: Jennifer Lynch; Julia Ormond, Bill Pullman, Pell James, Ryan Simpkins, French Stewart, Kent Harper, Michael Ironside. $26.98 (Magnolia Home Entertainment).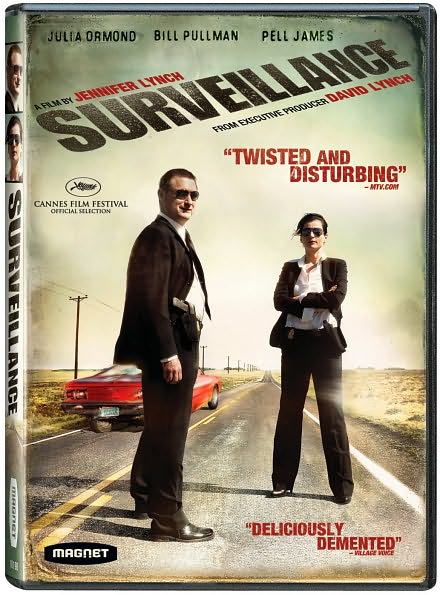 "Somewhere deep inside the Santa Fe desert there's been a number of blood-curdling murders. The local police station apprehends three witnesses: Officer Jack Bennet, one of their own, tough, but affected by recent events; Bobby, high as a kite on cocaine; and Stephanie, an eight-years-old who has just witnessed her family being brutally murdered by two figures dressed in jumpsuits, gloves, boots, and horrifyingly disfiguring blue latex masks. FBI agents Elizabeth Anderson (Julia Ormond) and Sam Hallaway (Bill Pullman) arrive at the police station, and have three sets of stories to figure out. As the witnesses tell their stories one by one, the gruesome, murderous events unravel. But as the Feds begin to expose the fragile little details each witness conceals so carefully with a well practiced lie, they soon discover that uncovering "the truth" can come at a very big cost."