Tags
Related Posts
Share This
DVD Releases for August 12th.
We have some dandy titles this week. The third set (season) of Blue Murder is out, as is a box set of the fantastic British series Hu$tle.

But the true gem is the fifth and final season of The Wire. If you don'ty know the series, climb out of your cave and buy all five seasons ASAP!
Blue Murder, Set 3 Caroline Quentin, Ian Kelsey. Two-disc set, $39.99. (Acorn Media).
"When strangers ask Janine Lewis what she does for a living, she tells them, "crisis management." And she's not kidding. As detective chief inspector, she supervises a squad of cops investigating some of Manchester's most brutal, highly publicized crimes. Janine and her team employ refreshingly low-tech investigative techniques to sort through the multiple suspects and motives in these three all-new mysteries. Meanwhile as a single mom, she wrestles with soccer practices, field trips, and schoolwork for her four children. She handles her daily crises with energy and aplomb, protecting her kids as well as the detectives under her command with a fierce maternal affection.
Award-winning actress Caroline Quentin (Jonathan Creek, Men Behaving Badly) portrays Janine with the perfect combination of toughness and tenderness. And Ian Kelsey (Casualty) brings a subtle vulnerability to his role as DI Richard Mayne, the lead detective on Janine's team.
These tense, tightly plotted mysteries show the everyday trials and triumphs of a woman balancing career and family."

The Dick Francis Thriller: The Racing Game Mike Gwilym, Mick Ford, and Susan Wooldridge. Two-disc set with six episodes.; $39.99. (Acorn Media).
"Sid Halley, a star steeplechase rider, suffers a career-ending injury that leaves him crippled in body and spirit. He finds new life as a private detective and returns to the track to investigate all manner of misdeeds, from conniving bookies and blackmail to murder. A great literary gumshoe emerges as Halley regains his dignity, faces his vulnerability, and finds new meaning in life.
This absorbing series stays true to the down-and-dirty thrills of Francis's novels and adds its own irresistible swagger and charm."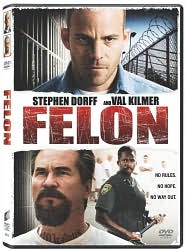 Felon (2008) Val Kilmer, Stephen Dorff, Harold Perrineau, Sam Shepard, Anne Archer. Extras: "The Shark Tank: An Inside Look at Felon" featurette. (Sony).
"A loving family man with a promising future, Wade Porter (Stephen Dorff) suddenly loses everything when he accidentally kills the burglar who broke into his home. Convicted of involuntary manslaughter, Wade is sentenced to spend the next three years inside a maximum security facility where the rules of society no longer apply. Forced to share a cell with a notorious mass murderer (Val Kilmer) and subjected to brutal beatings orchestrated by the sadistic head prison guard (Harold Perrineau), Wade soon realizes he's in for the fight of his life and must become the toughest FELON of them all if he's to survive the block. For what doesnt kill you only makes you stronger. And in state prison, only the strongest will survive."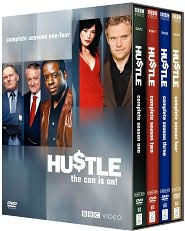 Hustle: Complete Seasons 1-4 Eight-disc set, $99.98. (BBC/Warner).
"If you're rich, greedy, a taker… then beware!
This team is driven to extract the cash from the amoral and the undeserving. They don't just con anyone and they aren't interested in your life savings. They have one golden rule: you can never con an honest man. They are con artists with a conscience. The marks are people we love to hate and can't wait to see being taken down a peg or two.
The art of the con is not dead. You merely can't see it. If you do see it, then it is inevitably always too late. It is an invisible crime built on the premise of finding some one who wants something for nothing and then giving them nothing for something. Choose the mark, reel them in, play on their desires and set them up. It doesn't matter whether they're black or white, male or female but they must be strictly major league. There are no quick fixes. Patience is truly a virtue in this game. All you have to do is make them believe…"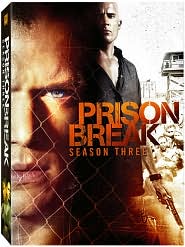 Prison Break: Season Three Four-disc set with 13 episodes, $49.98. Available on DVD and Blu-ray Disc. Extras: "Orientation" and "Breakout Episode" featurettes, directors' takes, behind-the-scenes with the cast. (Fox).
"Michael Scofield (Miller) finds himself once again imprisoned – but this time at SONA, a Panamonian Prison without rules and without guards. Along with fellow inmates T-Bag (Knepper), Mahone (Fichtner) and Bellick (Williams) and with the outside aid of brother Lincoln (Purcell), Michael not only must fight to survive, but is also tasked with breaking out of prison…again. "



The Wire: The Complete Fifth Season Four-disc set with all 10 episodes from the final season, $59.99. Extras: "The Wire: The Last Word" featurette, "The Wire Odyssey" retrospective, commentaries. (HBO Video).
"In the projects. On the docks. In City Hall. In the schools. And now, in the media. The places and faces have changed, but the game remains the same.
Times are tough for the detail. Mayor Carcetti has slashed the departments budget to the bone. Police are operating without overtime some without cars and radios. Angered, McNulty is off the rails again and headed down a dangerous path of deception and lies that will ally him with an unscrupulous reporter. The drug trade still rules the corners, all you have to do is read between the lines."