Tags
Related Posts
Share This
DVD Releases for July 8th.
Batman Begins Limited Edition Gift Set (2005) Dir.: Christopher Nolan; Christian Bale, Michael Caine, Liam Neeson, Katie Holmes, Gary Oldman, Cillian Murphy, Tom Wilkinson, Rutger Hauer, Ken Watanabe, Morgan Freeman.
The standard DVD of the Batman Begins Limited Edition Gift Set is a two-disc set in a gift box with a Batman-branded 128 MB flash drive with 18 images from the upcoming "The Dark Knight," five collectible Batman postcards, more
The Batman Begins Limited Edition Gift Set Blu-ray Disc is a single Blu-ray Disc packed in a motion art lenticular box with "The Dark Knight" prologue (the first six minutes of the film); a 32-page booklet including an all-new DC Comic comic book adaptation of "The Dark Knight" prologue, photos, script pages and story boards; five "Batman Begins" collectible postcards.
A single-disc Blu-ray edition is also available.(Warner).


Batman: Gotham Knight (2005) Extras: "A Mirror for the Bat: The Evil Denizens of Gotham City" documentary covering Gotham City's most nefarious, "Sneak Peek: Wonder Woman" DC Universe animated original movie, commentary. Two-disc and Blu-ray editions add "Batman and Me a Devotion of Destiny: The Bob Kane Story" comprehensive chronology of the remarkable life of the creator of Batman, "Batman: The Animated Series" bonus episodes. (Warner).
From producers of Batman Begins and The Dark Knight comes six spellbinding chapters chronicling Batman's transition from novice crimefighter to The Dark Knight. These globe-spanning adventures pit Batman against the fearsome Scarecrow, the freakish Killer Croc and the unerring marksman Deadshot. From some of the world's most visionary animators comes a thrilling depiction of Batman as man, myth and legend.



Cannon: Season one, volume one (1971) William Conrad (CBS/Paramount)
The weekly adventures of Frank Cannon, an overweight, balding ex-cop with a deep voice and expensive tastes in culinary pleasures, who becomes a high-priced private investigator. Since Cannon's girth didn't allow for many fist-fights and gun battles (although there were many), the series substituted car chases and high production values in their place.
Jake and the Fatman: Season one, volume one (1987) William Conrad, Joe Penny. 3-disc set with 11 episodes, $42.99 (CBS/Paramount)


Veteran district attorney "Fatman" McCabe solves cases in Los Angeles with the help of his easygoing private investigator partner Jake Styles

Monk: Season six Tony Shalhoub. SRP $59.98 Extras: commentary on eight episodes(Universal)
"Tony Shalhoub returns as the brilliant but phobia-laden detective Adrian Monk, who never lets his obsessive-compulsive disorder stop him from solving a crime in the most ingenious way imaginable. Guest stars this season include Alfred Molina, David Koechner, Sarah Silverman, Snoop Dogg, Angela Kinsey and Vincent Ventresca."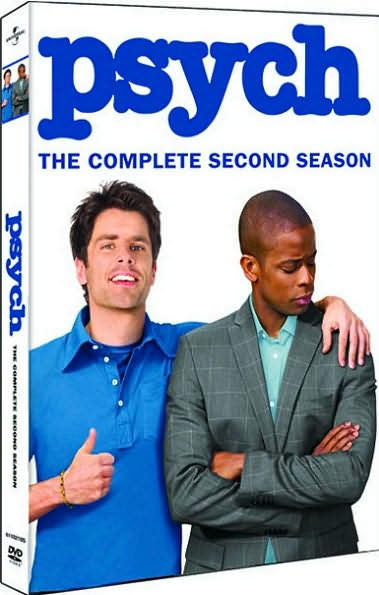 Psych: Complete second season (2007) James Roday, Dule Hill, Gerald McRainy $59.98 Extras: Commentary tracks for seven epsiodes, Deleted Scenes, Gag Reel, Where's The Pineapple, The Name Game, Psychouts, Lil' Shawn and Gus webisodes (Univseral)
"James Roday and Dule Hill return as fake psychic Shawn Spencer and his partner Gus in this comedy detective series. Thanks to a childhood spent with a family of cops, Shawn possesses an incredible photographic memory and notices seemingly insignificant details. These traits allow him to pass himself off as a psychic and help the local police solve crimes."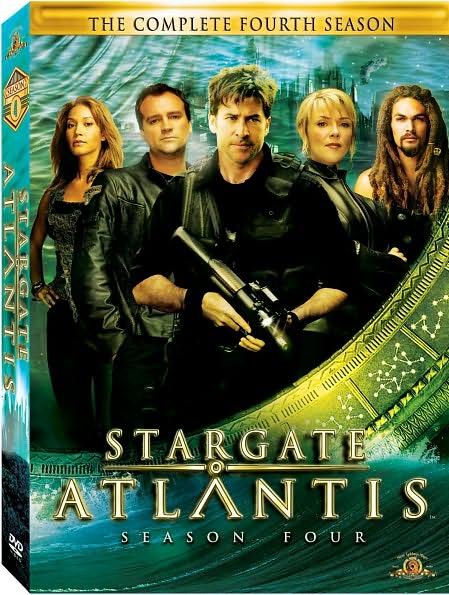 Stargate: Atlantis Season Four Five-disc set with 20 episodes, $49.98. Extras: Cast and crew commentaries, deleted scenes, photo galleries, the first "Atlantis" blooper reel, featurettes, more. (MGM).
"In Season Four, SG-1's Award-Winning star Amanda Tapping crosses over as the new leader, joining the Atlantis cast as television's favorite astrophysicist Commander Samantha Carter, along with the return of Jewel Staite ("Firefly," "Serenity") reprising her role of Dr. Keller, a physician who joins the Atlantis expedition. The fourth season also continues to deliver out-of-this world excitement and amazing adventures with exceptional visuals chronicling the voyage of the Atlantis team in the Pegasus galaxy."
Wire in the Blood – The Complete 5th Season Robson Green, Simone Lahbib, Mark Letheren SRP $59.98(Koch)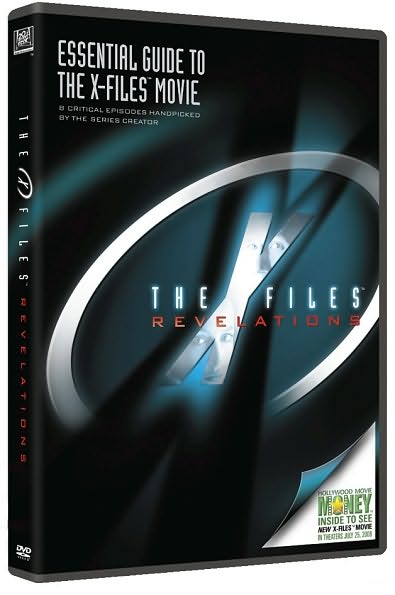 The X-Files Revelations (2005) Two-disc set with eight critical episodes hand-picked by series creator Chris Carter just in time for the series' second trip to the big screen on July 25. "Pilot," "Beyond the Sea," "The Host," "Clyde Bruckman's Final Repose," "Memento Mori," "The Post-Modern Prometheus," "Bad Blood" and "Milagro" are included. Extras: introductions by Carter and producer Frank Spotnitz, revealing why each episode was chosen and how they relate to the new feature film; February 2008 WonderCon panel session with Carter and Spotnitz, as well as series stars David Duchovny and Gillian Anderson, making their first fan convention appearance together in several years and taking questions from fans in a 30+ minute interview. (Fox).
For more info on upcoming DVD and Blu-Ray releases, check out our DVD Calendar.