Tags
Related Posts
Share This
DVD Releases for October 20th 2009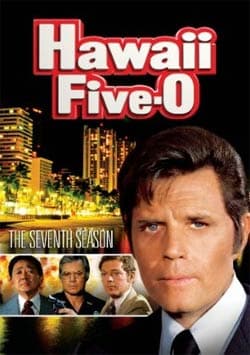 Hawaii Five-O: The Seventh Season (1974-75)Jack Lord, James MacArthur, Kam Fong, and Herman Wedermeyer Six-disc set with 24 episodes, $49.99. (Paramount).
Filmed entirely on location in Hawaii, the show followed Jack Lord as he played Steve McGarrett, head of an elite state police unit investigating "organized crime, murder, assassination attempts, foreign agents, felonies of every type." James MacArthur played his second-in-command Danny ("Danno") Williams, with local actors playing members of the Five-O team.

Homicide: Life on the Street: The Complete Series Thirty-five disc set with all 122 episodes, $149.95. Extras: Three "Law & Order" crossover episodes, "Homicide: The Movie," more. (A&E Home Entertainment).
Before THE WIRE, David Simon had HOMICIDE: LIFE ON THE STREETS. The show was inspired by his true crime book of the same name. This show is one of the top dramas in the history of television and is a must-own!

It's Garry Shandling's Show: The Complete Series DVD Box Set (1986-90)$159.99 (Shout! Factory)

Before the Internet, before reality TV, no one saw what television could be more humorously and with more vision than Garry Shandling. In 1986 Garry Shandling was poised to become a permanent guest host on Johnny Carsons The Tonight Show. Instead, he took a chance on an offer from fledgling cable network Showtime to create his own television series. No questions asked.
A surreal look at the daily life of a young single man who is a comedian, Its Garry Shandlings Show was not a typical sitcom: Shandling would break the fourth wall to include the studio audience and the viewers at home in on the actual making of the show. Experimenting with the sitcom form meant inviting the audience onto the set, playing with the passage of time and generally exploding the genre and making art of the debris.
Teaming up with Saturday Night Live writer Alan Zweibel, the two men put on a fourth-grade play every week for four seasons. With a crew of talented young writers (including Tom Gammill, Max Pross, Al Jean, Michael Reiss, David Mirkin, who would go on to write Seinfeld and The Simpsons, and Ed Solomon, who wrote Men In Black), television history was made. Over the years, guest stars (playing themselves) included Tom Petty, Rob Reiner, Vanna White, Red Buttons, Dan Aykroyd, Martin Mull, Gilda Radner (in her last TV performance), Carl Reiner, Chevy Chase, Red Buttons, Jeff Goldblum, Don Cornelius, The Turtles, Los Angeles Mayor Tom Bradley and more.
From its unforgettable theme song to its closing credits, Its Garry Shandlings Show was award-winning, mind-bending television for four seasons, and its influence is clearly seen in the best TV comedies through the decades to follow.
Goodness! Garry Shanding comes to DVD. This show broke new ground (and the fourth wall) and paved the way for shows like SEINFELD. As usual, Shout! Factory does a nice job of compiling a killer batch of extras that will have fans jumping for joy.


Numbers: The Fifth Season (2008-09) David Krumholtz, Rob Morrow, Judd Hirsch, Alimi Ballard, Dylan Bruno, Peter MacNicol Six-disc set with 23 episodes, $60.90. (Paramount).
NUMB3RS has, over the years, become a true fav of mine. The show has delivered quality consistantly and has shown character development that has me watching CBS every Friday night at 9 (CST).
Peanuts 1970s Collection, Volume 1 Two-disc set with six "Peanuts" TV features: "You're Not Elected, Charlie Brown," "There's No Time for Love, Charlie Brown," "A Charlie Brown Thanksgiving," "It's a Mystery, Charlie Brown," "Play It Again, Charlie Brown," "It's the Easter Beagle, Charlie Brown." $29.98. Extras: "Woodstock: Creating Snoopy's Sidekick," digital download of two songs. (Warner).
Charlie Brown was a staple of my childhood. Every holiday had a Peanuts special that was must-see TV. This set collects those from the 70s, some good and some that don't quite stand the test of time. But this set is worth it, if only for A CHARLIE BROWN THANKSGIVING.

UFC 100: Making History (2009) $19.97. Extras: Behind-the-scenes featurettes. Also available on Blu-ray Disc. (Anchor Bay Entertainment).
High-octane showcase of the biggest names in the world of mixed martial arts: UFC Heavyweight Champion Brock Lesnar defends his title against Interim Heavyweight Champion Frank Mir and UFC Welterweight champion Georges "Rush" St-Pierre fights the number one contender Thiago "Pitbull" Alves.
I know that the UFC is not crime fiction, but as a fan of MMA, I feel the need to point out the release of UFC 100. It is a hell of a card that features two title bouts with the companies two biggest stars. And as an added bonus, you get to see Brock throw a bit of a temper tantrum after his mauling of Frank Mir.


Vega$: The First Season, Volume 1 (1978) Robert Urich, Tony Curtis, Greg Morris, Bart Braverman Three-disc set with 11 episodes, $36.98. (Paramount)
This popular series, handsome, fun loving, private eye, Dan Tanna, drives around Las Vegas in his vintage Thunderbird solving private cases but is also on retainer to a wealthy casino owner to keep crime out of his hotels. He is helped by his smart and sexy assistant, a sexy and not too smart chorus girl who takes messages for him, and his enthusiastic, yet inept, legman.