Tags
Related Posts
Share This
DVD Review: A MIND TO KILL – Series Three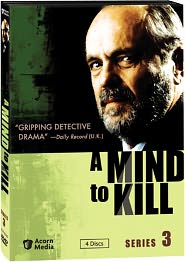 Acorn Media
Release date: April 19th, 2011
MSRP: $69.99
Stars: Philip Madoc, Steve Thomas, Ffion Wilkins, Sharon Morgan, Gillian Elisa
Folks that like their murders off screen and the folk genteel had best look pass on A Mind To Kill. But if you have a strong stomach, if you can handle a bit of the red stuff (and I am not talking about wine), you will be rewarded with a pretty entertaining show.
Philip Madoc stars as DCI Bain, a top notch detective that is tough enough to handle the brutal crimes he sees every day. He is also a widower with a seventeen year-old daughter that is able to still let his guard down at home and be a loving father to her.
As this set begins, Noel Bain has returned from a leave of absence any finds himself struggling with his place in fast-changing department that seemingly worries as much about the bottom line as it does enforcing the law and serving justice. His team is no more and he must deal with the fact that his own daughter is now following in his footsteps as a cop.
AMTK is a sharp, smart series. Madoc does a good job of playing the different aspects of Bain: The father and the copper. I was not joking when I said that the show requires a strong stomach, there is blood, violence and nudity, but if that does not bother you, give A Mind To Kill a shot.
Jeremy Lynch