Tags
Related Posts
Share This
DVD Review: ARMORED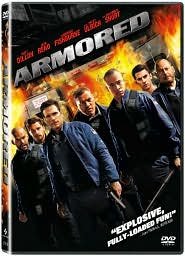 Sony Pictures Home Entertainment
Release date: March 16th, 2010
MSRP: $28.99
Director: Nimrod Antal
Stars: Christopher Short, Matt Dillon, Jean Reno, Laurence Fishburne, Skeet Ulrich
Writer: Joshua Donen
Theatrical release date: December 4th, 2009
Ty (Christopher Short) is looking to get his life together and move forward. He is recently back from a military stint in Iraq and simply wants to get his feet on the ground and to help his younger brother stay out of foster care (their parents have passed away). He takes a job as a guard for an armored car, working along side his pal Mike (Matt Dillon).
Mike comes up with a plan to steal a massive load of cash and enlists Ty's assistance. Ty would be able to take care of his brother and Mike promises this is fool-proof. Of course things go wrong and Ty panics and, fearing for his life, locks himself, and the money, in the armored car.

Director Nimrod Antal offers up a fairly decent low-budget thriller here. The story, as well as the script, is run of the mill stuff, but Antal manages to pump some life into it and the result is a film that is better than it ought to be. Whether it is a matter of Antal's talent or a desire to establish himself in the eyes of the studios, I don't know. But he has made an impact on me. I may not remember Armored down the line, I certainly won't forget Nimrod.
But Antal is not without support, Christopher Short, Matt Dillon, Jean Reno and Laurence Fishburne all do a good job and make this feel bigger than the B film it is. Skeet Ulrich is also here. Not sure he is worth talking about, but I like saying Skeet. I sounds like a creature from a fantasy film, maybe the Dark Crystal.
Extras include a commentary track that does not feature the director or stars, but Skeet Ulrich and Milo Ventimiglia and producer Dan Farah. I listened to maybe a third of it and thought of six or seven hundred better things I could do with my time. Sorry guys, you just did not have a reason to be here and added very little of interest.
Also included are three featurettes that talk about the making of the film as well as the production of sets and arranging of the stunts.
.Armored offers up nothing new and nothing special, but is nothing wretched. I watched it on a lazy Sunday afternoon and it hit the spot, not unlike a bag of Doritos. But I don't see myself heading back to revisit Dillon and co anytime soon.
Jeremy