Tags
Related Posts
Share This
BAD GIRLS OF FILM NOIR: volume one DVD Review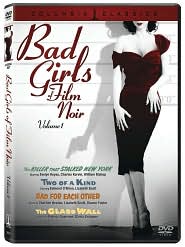 Sony Pictures Home Entertainment
Release date: Feb 9, 2010
MSRP: $24.96
BAD GIRLS OF FILM NOIR: Volume 1 features lower budget crime films from the vaults of Columbia Studios. Danger, lies, treachery and dames that will drag you straight to hell.
THE KILLER THAT STALKED NEW YORK (1950) stars Evelyn Keyes as Sheila Bennet a woman smuggling diamonds. Unfortunately, that is not all she is carrying, she also has small pox. Over the course of the film, she clashes, and infects, numerous folks while Dr. Ben Wood (William Bishop) works to trace the deadly outbreak. By the end of the film, a massive movement to immunize the entire city has begun. This film is half crime drama, half PSA. Apparently the film is based on an actual NYC outbreak in 1947 (though it was not as severe).

TWO OF A KIND (1951) Brandy Kirby (Lizabeth Scott) joins forces with Vincent Mailer (Alexander Knox), a lawyer of questionable morals, to scam the McIntyres, a rich eldery couple, out of their millions. Decades earlier, the McIntyres lost their boy in Chicago. He was never found. Brandy searchs high and low and finds Lefty Farrell (Edmond O'Brien), a two-bit gambler. to pass as the long long McIntyre heir. Brandy uses her feminine wiles to entice Lefty to join in on the con.
BAD FOR EACH OTHER (1953) Army doctor Tom Owen (Charlton Heston), upon returning home to small town Pennsylvania, finds himself facing a moral dilemma: Should he opt to become a city doctor for the wealthy or return to his mentor and help the town miners. Considering the name of this set, it should come as no surprise that a dame (Lizabeth Scott) entices Tom to head to the big city. Tom soon finds himself covering for his partner, a hack of a physician whose skills have eroded from years of quackery. In some ways, this puppy is a bit heavy-handed and seems to suggest that those with money are less deserving than those without. I also was a little surprised to find Heston's performance just short of the overacting levels of William Shatner.
THE GLASS WALL (1953) I am a little baffled as to why this is included here. I just don't see it as an actual noir film. Peter Kaban ( Vittorio Gassman) is a Hungarian looking to find a better life in America. He attempts to sneak into New York, but is caught. He explains that he saved the life of an American G.I. And thus should be allowed to stay. The problem is that he only has the first name of the American (Tom) and if he is sent back to Hungary, he will be killed!
So Peter makes a break for it and breaks his ribs in the process. But even broken ribs won't stop him from pursuing the American dream. All he needs to do is find Tom…in New York city. But it is not as hard as it sounds, he knows that Tom plays the clarinet in a night club. Admittedly that does narrow it down a bit.
Peter's story makes the papers and Tom sees it! But Tom is focused on an important audition and does immediately reach out to the authorities. Plus, his gal does not see why he should help out this fuzzy little foreigner…ok, that is my words (well, Bill Murray's words). I guess his girlfriend is the bad girl, but she is more of a little b…rat than bad girl.
Picture:
The picture quality is quite impressive considering the age of these films. While some better known films are preserved, these are mid level so the the quality is surprising. The transfer is clean and the sound is good.
Extras:
Trailers are included for each title as well as THE PAYOFF, a Ford Television Theater presentation from 1956. It stars Howard Duff as a P.I. And was written by Blake Edwards.
None of these films are really bad, they simply are b grade films that were made by the dozens back in the day. Keeping this in mind, one will likely enjoy this set. The picture quality is, as I said, good and the price is reasonable.
Order volume one of BAD GIRLS OF FILM NOIR.
Jeremy Lynch