Tags
Related Posts
Share This
DVD Review: BATMAN The Brave & The Bold Season One, Part Two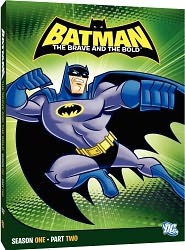 Warner Home Video
Release Date: March 15th, 2011
MSRP: $19.98
Batman: The Brave and The Bold is based on the DC comic of the same name. Each episode sees Batman team up with another superhero from the DC universe.
This series is definitely lighter than BATMAN: The Animated Series, but does not feel childish. The animation is still quite stylish and has a retro look to it. There is the attention to detail that has become a trademark of Warner Animation. It is quite clear that a lot of attention and love went into this show.
In these episodes, we see the Caped Crusader team up with better known DC characters like Robin, Aquaman, Green Arrow, The Huntress and Black Canary, as well as Jonah Hex, Red Tornado, Sherlock Holmes and Watson, Bat Mite and Ace the Bat Hound, They take on McNasties like Bone, The Scarecrow, Solomon Grundy, Two-Face and Catwoman.
Kevin Conroy, the man that has done almost all of the Batman animated stuff, is not part of this. I have to admit that had I not been reviewing this, I would likely have stopped watching after the second episode. To me, Conroy is The Dark Knight. But his replacement, Deidrich Bader, does a solid job. Folks that are not familiar with Conroy as Batman will likely find Bader's performance outstanding. I don't doubt he will grow on me as the series goes on, but I am still getting used to him at this point.
Sadly, there are no real bonus features here.
Batman fans will certainly have fun with this series. I do think it is a step down from Batman: The Animated series, but that show set that bar awfully damn high. Brave & The Bold is entertaining and offers folks a chance to spend time with a wide variety of DC superheros.
Order Season one, Part two from Amazon.
Jeremy Lynch