Tags
Related Posts
Share This
DVD Review: BLUE BLOODS The First Season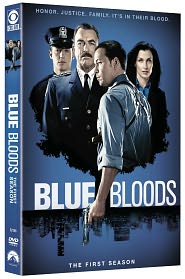 CBS/Paramount Home Entertainment
Release date: Sept 13, 2011
MSRP: $64.99
The Reagans are sort of police royalty in NYC. Frank (Tom Selleck) is the current Police commission, a role his father held. He has two sons currently in the department, one son that was killed on the job, and a daughter in the District attorney's office.
As the show begins, Jamie (Will Estes) has just been sworn in. He went to law school, but decided to become a cop after the death of his brother. Danny (Don Wahlberg) is a married detective that has a willingness to cross the line when he feels it is called for. This no nonsense approach is the fuel for many an argument with Erin (Bridget Moynahan) his sister. Most of these arguments occur at the weekly family Sunday dinner.
Blue Bloods attempts to find a balance between being a police procedural and a family drama. For me, the family scenes are more engaging, but the procedural aspect often fails to come across as realistic. I am not expecting network dramas to be totally accurate, I just want them to appear to be accurate.
The casting of Blue Bloods is sound and I buy the Reagans as being family. I also applaud the show for moving the secondary storylines along slowly. We see an ongoing conflict between Commissioner Regan and the mayor's office, but it does not play out in every episode. It moves slowly over the course of the season and felt, to me, quite believable.
My overall impression of BLUE BLOODS is that it is an ok show with a solid cast, but in need to better writing. NUMB3RS is a good example of a police show that successfully blended the characters lives with the on the job action. It has found a solid audience and I can totally understand why, I just can't help but think about what it might become.
Jeremy Lynch