Tags
Related Posts
Share This
DVD Review: CAMELOT: The Complete First Season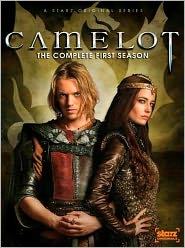 Anchor Bay/Starz
Release date: Sept 13, 2011
MSRP: $49.99
over the years I have seen a lot of different takes on the legend of
King Arthur and while not all of them have been great, I've enjoyed them all. I spotted this DVD while shopping for something else and was intrigued so I took it home.
It is quickly apparent that this is not the Arthur I knew as a kid. The production that the Starz network put into this must have been huge, and some reports I saw put it at millions per episode. I believe it, the sets were top notch as were the costuming and everything else about it. It was filmed on location in Ireland so it is plush and green but they also worked with the weather and got some great rain storms and used the weather to their advantage.
The cast was terrific. Jamie Campbell Bower is a name I hadn't heard
before but I quickly learned to like him as the boy king being mentored by Merlin, who was deftly played by Joseph Fiennes. This Merlin is not robed and white haired but rather looks world weary. Eva Green as Morgan Penfragon/LeFey was an inspired choice and she stole the show with every scene she did.
Season one takes us from Arthur learning of his heritage to his
embracing his role as king, all in all maybe about a year or two? We see Morgan plotting and sometimes winning, and the relationship with
Guinevere is different than what we have seen in the past.
Finishing this season I went right to my computer to check the status of season 2, and alas there is no season two. Starz had this to say "Due to significant production challenges, Starz has decided not to exercise the option for subsequent seasons of Camelot with our production partners GK-tv, Octagon Films and Take 5 Productions." Which actually means it cost a ton of money to make, ratings were up and down and some of the actors went on to other things. They were also competing against a little show that could called Game Of Thrones with a very similar fantasy bent.
It's too bad, I'd love to see where this went as I quite enjoyed this
first and now only season.
Jon Jordan