Tags
Related Posts
Share This
DAMAGES: The Complete Second Season: DVD Review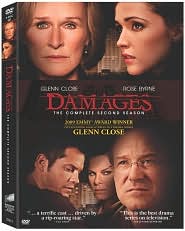 Sony Pictures Home Entertainment
Release date: Jan 19th, 2010
MSRP: $39.95
Stars: Glenn Close, Rose Byrne, Tate Donovan, William Hurt, Marcia Gay Harden
Legal juggernaut Patty Hewes finds a man from her past knocking on her door. Scientist Daniel Purcell (William Hurt) approaches her with news of corporate wrong-doing. But no sooner do they meet when Daniel's wife is murdered with Danial being the prime suspect. But as Patty works to clear him, she finds herself not just facing off against a corporate giant, but the government as well.

In addition, Ellen (Rose Byrne) is still reeling from the death of her fiancée and is looking to take Patty down. She partners up with the FBI, but are the agents looking only to uphold the law or do they have more sinister interests? We also find Arthur Frobisher recovering from his near death experience. Arthur wants to put his past behind him and become a better man.
Season two was more than a little frustrating. While there were good performances, there was way too many plotlines. In addition to working on leftovers from season one, they added plenty of new ones. The result was an overly complex and messy show. As a result, some strong performances and gripping story progression got lost in the mix. You can only care about so much. Had this been a 20 episode season, it might have worked better.
I did enjoy it for the most part, but it could not hold a candle to season one. Fans of the show will enjoy this, just don't expect the same level of quality this time around.
Jeremy