Tags
Related Posts
Share This
DVD Review: DIRTY SEXY MONEY – The Final Season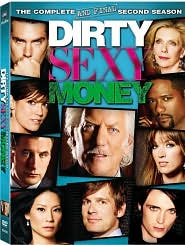 Buena Vista Home Entertainment
Release date:
MSRP: $39.99
Stars: Peter Krause, Donald Sutherland, William Baldwin, Seth Gabel, Glenn Fitzgerald, Blair Underwood, Jill Clayburgh, Lucy Lui, Zoe Mclellan, Natalie Zea
Nick Fisher (Peter Krause) is the family attorney for the Darlings, one of the richest, most powerful families in New York. They make Donald Trump look like a paperboy. Before him, his father held the post. That post robbed Nick of his father and, despite vowed to not let that happen, Nick is now heading down that very same path.
DSM underwent some behind the scenes changes between seasons one and two and there was a decision to spice things up a bit. Make it "Dirtier, Sexier" and pretty much make everyone much more annoying.

I originally lost interest midway through the season, but am happy to report that the second half of the season saw the characters regain some depth and humanity. Once again, I found myself interested in what happened to most of the characters.
I could try to sum up the season, but that would take more space than we have. Here is a bit of what you can expect from season two: Charges of murder, accusations of murder when it was an accident, Karen dumped by Simon Elder (Blair Underwood), a childhood romance is rekindled, A pregnancy in the Darling family, , an unlikely person announced as future CEO of Darling Enterprises, a bitter spouse writers a tell-all book, foes working together and much more.
Extras:
Extras include 3 featurettes as well as some bloopers and deleted scenes. Entertaining, but I would have liked to have gotten a little bang for the buck. Maybe some commentary tracks.
Truthfully, I enjoyed season one more, but fans should check out season two, if only so they can say goodbye to Nick, Karen, Tripp and the rest of the Darling clan.
Order season two of DIRTY SEXY MONEY.
Jeremy Lynch
For more reviews from Jeremy, and the rest of the Crimespree crew, check out the index of reviews.