Tags
Related Posts
Share This
HAWAII FIVE-O – The Tenth Season – DVD Review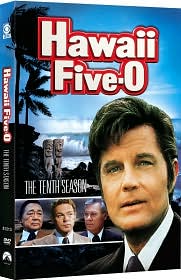 CBS/Paramount Home Entertainment
Release date: December 14, 2010
MSRP: $54.99
When we got season one of this TV show, I was surprised how well it held
up over the years. Sure, the clothes and some slang gave away the age,
but the procedural aspects were still sharp, and taken with consideration of when the show was done, even ahead of their time. Other shows from the early seventies were no where near as close.
By season 10, the cast has gone though some changes, but the things that really make the show work are still there. Each episode is a little different, they don't have the same crimes to solve each time out. Sometimes it's international intrigue, sometimes it just a drug dealer or a cat burglar.
They also started bringing in a police woman, who will actually join the team in season 12. Another strength is the camaraderie between McGarrett and his crew. He is genuinely happy when they don't get hurt, or truly upset when something bad happens.
Hawaii Five-0 was the longest running police show at it's time and there was a reason for this. It's a damn good show, and one worth re-watching.
Jon Jordan