Tags
Related Posts
Share This
DVD Review: INTELLIGENCE -Season Two.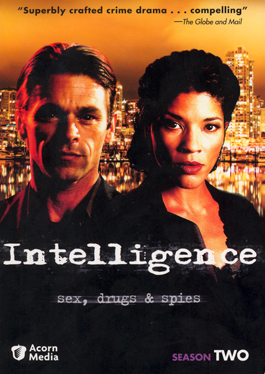 Acorn Media.
Release Date: April 14th, 2009
MSRP: $54.99
Stars: Ian Tracey, Klea Scott, John Cassini, Matt Frewer
For those that are not familiar with this stellar show, Intelligence focuses on two people: Jimmy, a head of crime in Vancouver that is looking to go legit and who loves his family more than money and power, and Mary, a key figure in the law enforcement community in Vancouver. While she does seek to uphold the law, she also is focuses on gaining power and climbing the ladder to the top. These two have an uneasy alliance as each attempts to both help and exploit the other.

Season two finds Jimmy trapped in Seattle. He initially attempts to surrender, but ends up on the run and being framed as a cop killer. Once he does return to Vancouver, he looks to go legit, but both the law and the crime world seem unwilling to let this happen.
Mary finally in appointed the head of the Asian Pacific region for CSIS and finds things only getting more complicated as everyone seems to have their own agenda. Things get especially tricky when the target in a key investigation has ties to the U.S. Government.
Sadly, this is the last season of Intelligence. Despite exception quality and a decent following,the show was canceled after season two. Rumors about that the unflattering depiction of the U.S. Government played a major role in it's demise. While the Feds do get slapped around in Intelligence, they are hardly the only ones as the Canadian government gets its fair share of slaps as well. Part of the magic of the show is that nobody is treated with kid gloves, the protagonists included. If being critical of the world around us is a bad thing, then we need more badness in our television.
Video:
The picture is, at times, a bit soft with some grain. Not enough to detract from the viewing experience, but enough to be noticeable.
Audio:
Audio is offered up in Dolby Digital 2.0. Sound quality is quite good with excellent background music.
Intelligence is one of the best shows that never made it. Season two builds on the characters established in season one and delivers a level of quality not often seen in television. Both seasons are must own sets for anyone that enjoys smart, well-crafted television. I can't recommend Intelligence strongly enough. In just two seasons, Intelligence has earned a special place in my collection as a show that will be watched again whenever I need to remind myself what good television is.
Order season two of Intelligence.
Jeremy Lynch
For more reviews from myself, and the rest of the Crimespree crew, check out the index of reviews.