Tags
Related Posts
Share This
DVD Review: MANNIX: Season two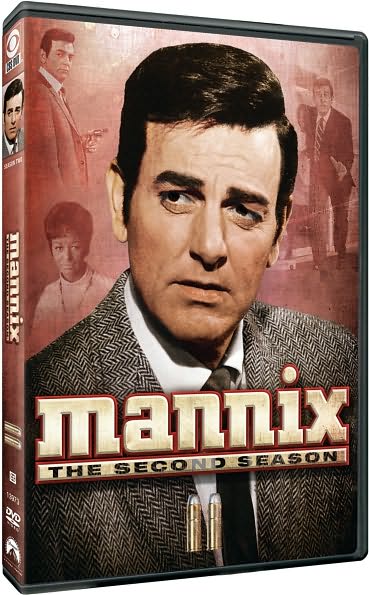 CBS/Paramount Home Entertainment
Release date: Jan 6th, 2009
MSRP: $49.99
Stars: Mike Connors, Peggy Fair
Paramount has just released all 25 episodes of the second season of Mannix, season one came out last June so I'm hoping this means the wait between releases is short. I really enjoy Mannix and I think it holds up well and is one of the better classic Television PI shows. Of all the older TV shows to be released Mannix is the one I wanted the most.

The biggest change up in season two is that Mannix has left Intertect and opened his own agency. He has one other employee, Peggy Fair played by Gail Fischer. Peggy is the widow of a cop buddy of Joe Mannix and she is now a single mother. Peggy adds a new dynamic to the show in that she helps Mannix not just by being a good secretary but by keeping Joe focused. She occasionally has a chat with people at Intertect when Joe needs a lead and she does it on the QT so as not to make him feel obligated. Peggy was with the show for the rest of its run till 1975. In addition to making the show stronger, she also has the distinction of being one of the first black women to have a major television role. In today's society it wouldn't seem like much, but in 1968 it was pretty big deal.
Joseph Campanella is back in season 2 in a few episodes and it's nice to see them as friends and not boss and employee. Other guest stars in Season 2 include: Cloris Leachman, William Windom, Barbara Rush, Barbara Babcock, Hugh Beaumont, Jill Ireland, Eve Plumb, Harry Dean Stanton, , Yaphet Kotto, and Sally Kellerman. Also along for the ride are a number of actors playing cops that lend Joe a hand including Larry Linville of M*A*S*H fame and Robert Reed from the Brady Bunch.
Mannix handles all the cases with typical Mannix style, which means someone is going to get punched. I think my favorite episode was the one that had Mannix working for a publisher to find the last chapter of a book by an author who had been murdered. Small town setting, corruption and damsel in distress. Classic Mannix.
Unlike season one, season two has no extra features, but that's fine by me, 25 more episodes of Mannix in my home to watch over and over again is a real treat. I'd read on a few websites that some of the older television show being released on disc have new or different music (including the Fugitive). Mannix has all the original music and I have to say it looks and sounds great.
Jon Jordan
For more reviews from Jon, and the rest of the Crimespree crew, check out the index of reviews.