Tags
Related Posts
Share This
DVD Review: MIDSOMER MURDERS Set 16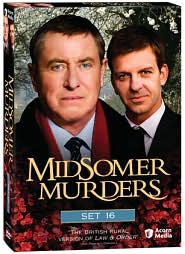 Acorn Media
Release date: Sept 28th, 2010
MSRP: $49.99
Coming out of the novels of Caroline Graham, Detective Chief Inspector Tom Barnaby (John Nettles), along with his trusty protégé Detective Sergeant Ben Jones (Jason Hughes), keeps the murderers and ruffians in line in the quiet, yet homicidal, county of Midsomer. Despite being full of quaint little villages, the inhabitants seem to be full of malevolence as bodies continue to pop up.
Set 16 offers up four stories that have not yet aired in the United States. Midsomer Life finds Barnaby and co handling the death of much disliked magazine editor. In The Magician's Nephew, members of a cult are killed in ways that suggest witchcraft may be involved. Days of Misrule features an explosion and a group workshop. Lastly, Talking to the Dead heads back towards the supernatural as the disappearance of two couples has locals blaming ghosts.

We are also treated to an honest-to-goodness bonus feature: a commentary track by stars John Nettles and Jane Wymark for The Magician's Nephew.
MM has been remarkably consistent in quality over the years and this set finds Nettles and company continuing to deliver a very entertaining mystery series. If you like your murder a little more on the gentle side, take a trip to Midsomer county, you won't regret it!
Order set 16 of MIDSOMER MURDERS.
Jeremy Lynch