Tags
Related Posts
Share This
DVD Review: NCIS – The Fifth Season.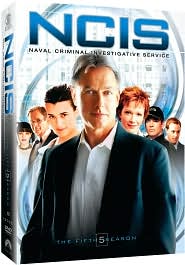 Paramount Home Entertainment
Release Date: August 26th, 2008
Five-disc set with 18 episodes
MSRP: $64.99
Stars: Mark Harmon, Pauley Perrette, Lauren Holly, Michael Weatherly, Sean Murray, Cote de Pablo
Amid rumors of a rift with series star Mark Harmon, creator Don Bellisario stepped back after Season 4, leaving the day-to-day showrunning duties to his longtime collaborator Chas. Floyd Johnson and head writer Shane Brennan. The success of the show's fifth season attests to its work environment and to the depth and chemistry of its characters.
Season 5 picks up with Tony DiNozzo (Michael Weatherly) finally meeting La Grenouille (Armand Assante), the elusive arms dealer he tracked undercover throughout Season 4. While DiNozzo deals with lingering feelings for La Grenouille's daughter Jeanne, the episode "Ex-File" introduces viewers to Gibbs's third ex-wife (played by Kathleen York), and "Requiem" delves further into the past as Gibbs's daughter's best friend Maddie Tyler (Cameron Goodman) seeks his help with a stalker.
Resuming production after the hundred-day writers' strike, a threat to Director Shepard's (Lauren Holly) health was written into the final seven episodes. Following an FBI investigation into La Grenouille's death, Shepard goes on leave. Assistant Director Leon Vance (Harmon's fellow Chicago Hope castmate Rocky Carroll) steps in. The two-part finale "Judgment Day" ends with the disbanding of Gibbs's team, leaving viewers in suspense for Season 6.
This five-disc set includes eighteen episodes and four cast commentaries–notably the first-ever commentary with Mark Harmon on "Requiem". There's also a feature on the making of "Requiem" (the series' highest-rated episode to date), the usual season overview, a feature on the wardrobe of NCIS, and one about how Pauley Perrette transforms into Abby Sciuto.