Tags
Related Posts
Share This
DVD Review: PRIME SUSPECT – The Complete Collection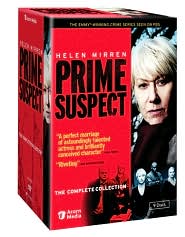 Acorn Media
Release date:
MSRP: $124.99
While Helen Mirren is an Oscar-winning star of film today, she first made an impact as DI Jane Tennison in PRIME SUSPECT. The show debuted in 1991 to immediate fanfare. The character of Jane is a complex and flawed one. She faced an uphill battle as a woman DI, but earned the resepct of her men because of her skills and toughness. That sounds like a bit of a cliche, but we also see some of her character flaws. She knows her every more is watched, as many have doubts about a lady in her position. And while she does not let them see it, it takes it's toll on her. We see her insecurities at home and her struggle to balance the demands of the job with those of her family.

By the end of the series, Jane is a Detective Superintendant and looking at the end of her career. She is battling the bottle, is alone and dealing with her father's pending death. She looks to wrap up her impressive career with her head held high and a high profile collar.
This collection features all seven series and I can't think of a single
rational reason not to buy this. The entire run of the show is good, with
the better ones being some of the best crime television ever made. Over the course of the series, appearances are made by the likes of Ralph Fiennes, Tom Wilkinson, David Thewlis and Mark Strong.
This set features a couple of behind the scenes featurettes as well as a
photo galley and cast filmographies.
Jeremy Lynch