Tags
Related Posts
Share This
DVD Review: PSYCH: The Complete Second Season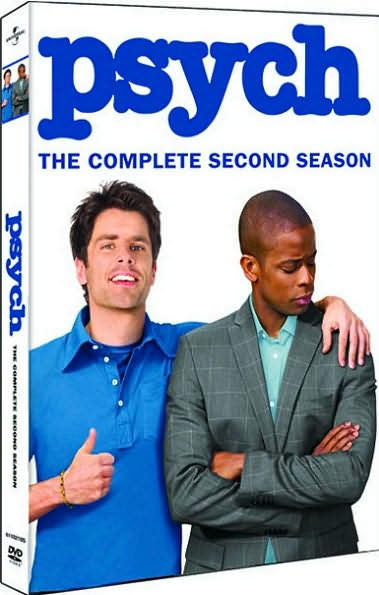 Universal Studios Home Entertainment
Release date: July 8th, 2008
MSRP: $59.98
Four-disc set with 16 episodes
Stars: James Roday, Dule Hill, Corbin Bersen
Super-observant fake psychic Shawn Spencer (James Roday) returns for a second laugh-a-minute season, aided by his best friend Burton "Gus" Guster (Dule Hill), and his retired cop father Henry (Corbin Bernsen).
Memorable episodes include "American Duos", a parody of American Idol guest-starring Tim Curry and Gina Gershon; "Psy vs. Psy", with Shawn trying to one-up an FBI psychic and Shawn's police contact Juliet O'Hara (Maggie Lawson) infatuated with a hard-charging FBI agent (Lou Diamond Phillips); "Bounty Hunters!", reuniting Shawn and Gus with a boyhood bully (Kevin Sorbo); and "Lights, Camera…Homicidio", a parody of Spanish-language telenovelas, to name just a few.
As wildly funny as Psych is, its main character relationships remain authentic and endearing. Audio commentary from series writers, producers, and stars on a whopping 13 of 16 episodes, deleted scenes, a gag reel, outtakes, a collection of "Little Shawn and Gus" cartoons, and two montages make the four-disc Season 2 set well worth owning.