Tags
Related Posts
Share This
DVD Review: REAPER: Season One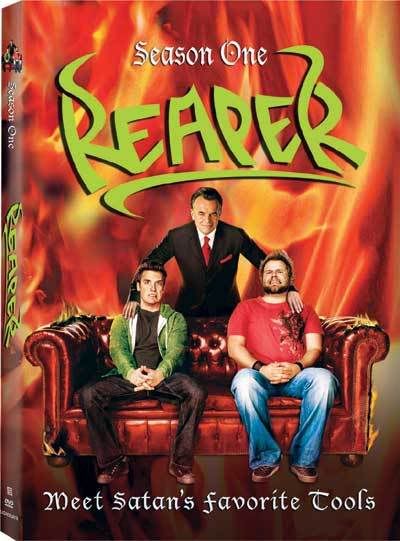 Reaper: Season One
Lionsgate Home Entertainment
Release date: November 4, 2008
MSRP: $39.98
Stars: Bret Harrison, Ray Wise, Tyler Labine, Rick Gonzales, Missy Peregrym
On his twenty-first birthday, lovable slacker Sam Oliver (Harrison) discovers his parents sold his soul to The Devil (Wise). Now, in addition to his job at The Work Bench, he's doomed to be The Devil's bounty hunter, capturing and sending escaped souls back to Hell using random "vessels" (anything from a handheld vacuum cleaner to a toy truck).
The premise may sound far-out, but Sam and his Work Bench buddies Sock (Labine) and Ben (Gonzales) have an easy chemistry and can't-miss dialogue clearly influenced by Kevin Smith (who directed the pilot). Ray Wise, meanwhile, can go from charming to menacing in a blink.

At first frustrated at his predicament, Sam gradually matches wits with The Devil, but his progress never feels obvious or preachy. Early episodes follow a freak/vessel-of-the-week formula, but several larger story lines develop mid-season.
Reaper's fate as a series was uncertain until just before The CW's upfront presentation in May, when the network ordered a 13-episode second season.
The five-disc Season One set includes 18 widescreen episodes, commentary on the pilot by co-creators Michele Fazekas and Tara Butters and producer Deborah Spera, deleted scenes, and a gag reel.
Order season one of Reaper from Amazon.
Gerald So
For more reviews from Gerald, and the rest of the Crimespree crew, check out the index of reviews.