Tags
Related Posts
Share This
DVD Review: RISKY BUSINESS: Deluxe Edition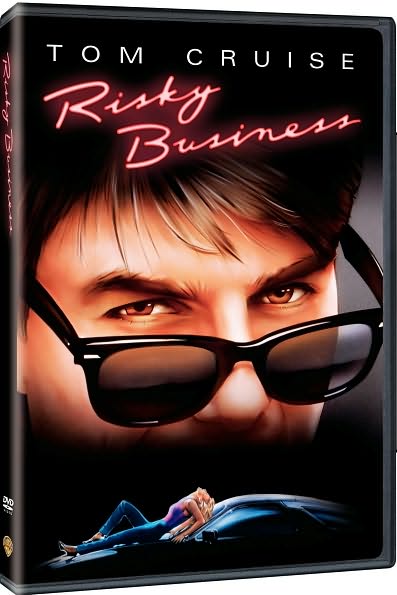 Warner Home Video
Release date: September 16th, 2008
MSRP: $19.96
Director: Paul Brickman
Stars: Tom Cruise, Rebecca De Mornay, Joe Pantoliano, Curtis Armstrong
Tom Cruise stars as Joel, a respectful, white, upper-middle class Chicago boy. His biggest worry is making his father happy by getting into a top-notch school.
But all that changes when his parents go on vacation. His friend orders him a call girl, but this lady ends up being very tall, very black and very masculine.
Jackie gives Joel Lana's phone number. Lana is what Joel wants; she is "what every white boy off the lake wants."
After an unforgettable night of whoopee (A phrase from an old game show), Joel's life turns to chaos.

Before his parents get home, Joel will be chased by "Guido the killer pimp", put his father's Porsche in Lake Michigan, make love on a train and have a Princeton entrance interview whiling hosting an escort party for his friends.
Risky Business may sound like a basic teen sex flick, but it is actually a very fun, very well made film. Tom Cruise was just another young actor, but Risky Business made him a star. While Cruise is great, Curtis Armstrong (Moonlighting, Revenge of the Nerds) steals many of the scenes he is in.
Extras:
The commentary track is noteworthy as it features Mr. Cruise, along with producer Jon Avnett and writer/director Paul Brinkman. Mr. Cruise does not normally partake in commentary tracks. The three work well together, offering up plenty of tidbits on filming of RB that are both insightful as well as entertaining.
The Dream is Always the Same: The story of Risky Business runs just under thirty minutes and features new interviews with Cruise, Avnet, Armstrong and several others.
Also included are screen tests for De Mornay and Cruise, as well as the director's cut of the final scene.
After over two decades, it is fun to revisit this really good film.
So go out and pick up a copy. Remember, sometimes you have to say "What the F**K, make your move."
Order Risky Business from Amazon.
Jeremy Lynch
For more reviews from myself, and the rest of the Crimespree crew, check out the index of reviews.