Tags
Related Posts
Share This
DVD Review: Roman Holiday (Centennial Collection)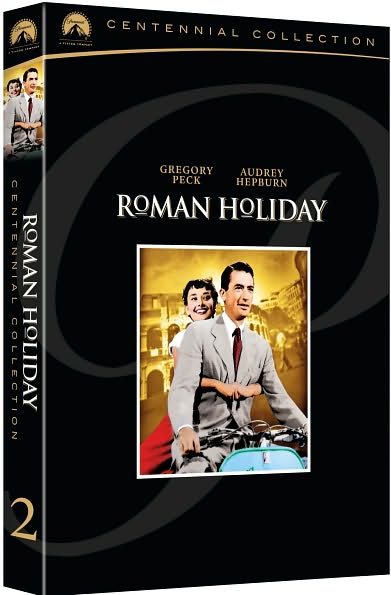 Roman Holiday
Paramount Home Entertainment
Release date: November 11th, 2008
MSRP: $24.99
Director: William Wyler
Stars: Gregory Peck, Audrey Hepburn, Eddie Albert, Hartley Power, Harcourt Williams
There is not much to say about Audrey Hepburn that has not already been said. From the early moments her her career, she was the kind of girl that men fall in love with and women want to be. Even now, 55 years after her first major film role, her performance seems utterly fresh.
In Roman Holiday, Audrey Hepburn plays Princess Ann, future queen of an unnamed European country. On a goodwill tour of Europe, Ann spends day after day greeting dignitaries and attending formal functions, but the confines of her restrictive schedule and stuffy routine begin to wear on her, and by the time she reaches Rome she is ready to burst. Enchanted by a village dance she sees through her bedroom window, Ann sneaks out of her room, past the royal guard, and into the city itself.

Along the way she meets handsome American reporter Joe Bradley (Gregory Peck), who has just gambled away the majority of his paycheck. One he realizes Hepburn's true identity, he knows there is a fortune to be made off the scandalous tale of a princess on the loose, and so he agrees to show her the city. Joe and "Anya" naturally end up having the time of their lives–drinks are thrown, secret service men are evaded, romance blooms–and by the end of the night, a wrenching decision must be made.
Listen–you know you crime buffs need a break from all of the violence and gore in your Netflix queue. If you have not seen Roman Holiday–and even if you have–get to the store and buy yourself a copy, for this film is an absolute delight. For history buffs, it plays like a postcard time capsule of Rome in the fifties. For film geeks, there is an entire disc filled with extras: Audrey Hepburn featurettes, a restoration doc that show how much work went into cleaning and polishing the film back to its original glory, retrospectives on costumes, the Hollywood blacklist, and Paramount in the '50s–even a photo gallery that you can click through at your leisure. The only small complaint I have is that that only Hepburn's Paramount pictures are mentioned, making it seem as though she went straight from Holly Golightly to goodwill ambassador; but that is hardly a deal breaker.
Do I need to mention that this film is appropriate for all ages, and would look great under the tree–totally classing up your array of Christmas socks, beer nuts, and Grand Theft Auto? …I'm so on to you.
Get your copy of Roman Holiday from Amazon.

Jill Lynch