Tags
Related Posts
Share This
DVD Review: SAVING GRACE: The Final Season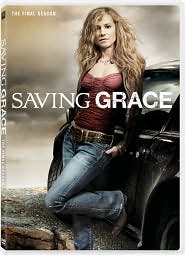 Fox Home Entertainment
Release date: July 13, 2010
MSRP: $49.98
I first discovered Saving Grace when I reviewed season one. It sounded hokey, so the plan was to watch half the episodes and write up my general impressions. I did not see any way I would make it through the entire season and was imagining Touched By an Angel with a badge. It blew me away and I have been a fan ever since.
I wish I could say that season three sees Grace and co head off on a high note, but truth be told, it is the weakest season of the show. The acting remains strong, but it feels as though these episodes were written by a half a dozen folks, each with their own vision for how things should be. There are inconsistencies and storylines that disappear for episodes at a time.

The acting is still strong and the chemistry is as good as ever. Holly Hunter does a wonderful job playing Grace as a very complex character. One with many vices and a strong sense of right and wrong. The only complaint I have with the cast is the character of Neely. I personally find the character almost unbearable and cringe each time she appears on screen. She is, fortunately, a minor character.
I won't say that fans should pass over season four, just that it does not live up to the high standard set by previous seasons. I wish Grace and co had left on a higher note.
Order SAVING GRACE: The Final Season.
Jeremy Lynch