Tags
Related Posts
Share This
SOUTHLAND: The Complete First Season DVD Review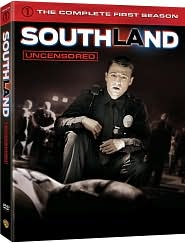 Warner Home Video
Release date: January 26, 2010
MSRP: $29.98
Stars: Benjamin McKenzie, Michael Cudlitz, Tom Everett Scott, Regina King, Kevin Alejandro, Arija Bareikis
In the interest of full disclosure, I must confess I am part of the reason that NBC dropped SOUTHLAND. I did not come up with The Jay Leno show or anything like that, but I never watched SOUTHLAND. I heard good things about it and meant to check it out, but never got around to it. Too many shiny things in the Lynch house.

But the publicity garnered by it's cancellation, and subsequent acquisition by TNT, put it on my radar and I decided to give it a shot on DVD. Most folk seem to think it was quality television and I am always looking for that which does not suck.
Well, I am happy to report SOUTHLAND does not suck. Quite the opposite: it has the makings of something damn good. John Wells has put together a cop show that, while having much of what one might expect from a network cop drama, with a mix of wide-eyed rookies and grizzled veterans struggling to follow the rules while trying to be as effective as possible, but it also offers up some style that, at times, reminds me of an independent film.
While there are numerous characters, the main focus is on rookie Ben Sherman and his world-weary parter John Cooper. Cooper quickly tells Ben that nothing he learned at the academy will serve him on the mean streets of L.A. And it just might get him killed. That is a hell of a way to start the job.
Because I never watched the show on NBC, I can't say what changes have been made. The cover declares this to be SOUTHLAND UNCENSORED and I have been told that means that some of the episodes have been extended.
Fans of crime television will certainly enjoy SOUTHLAND. Truth be told, it feels like a show that is better off on cable than network television. Hopefully enough of us tune in to TNT and buy this DVD set to ensure it's future.
Order season one of SOUTHLAND.
Jeremy Lynch