Tags
Related Posts
Share This
DVD Review: SUPERMAN UNBOUND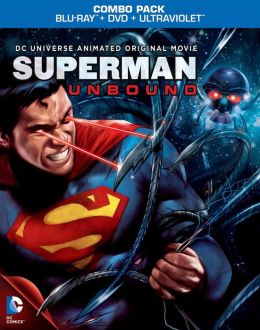 Warner Home Video
Release date: May 7, 2013
Rated PG-13
Runtime: 75 minutes
Starring the voices of Matt Bomer, Stana Katic, John Noble, Molly Quinn
Written by Bob Goodman
Based on the graphic novel SUPERMAN: BRAINIAC by Geoff Johns and Gary Frank
Directed by James Tucker
Superman (WHITE COLLAR's Matt Bomer) brings the remains of an alien robot back to the Fortress of Solitude, and his cousin Kara/Supergirl (CASTLE's Molly Quinn) recognizes it as belonging to the massively enhanced cyborg Brainiac (FRINGE's John Noble), who miniaturized Krypton's capital city, Kandor, and captured Kara's parents along with it. Superman and Supergirl must stop Braniac from capturing Metropolis and destroying Earth.
In Warner Bros. Animation's impressive line of DC Universe direct-to-video movies, SUPERMAN UNBOUND is notable for its modern sensibilities and subtle maturity. Superman has confided to Lois (CASTLE's Stana Katic) that he is Clark Kent, but he is reluctant to show affection publicly as Clark. Just as he has always tried to keep Lois safe, he is also protective of Kara. Bomer, Katic, and Quinn blend warmth and strength while Noble nails Brainiac's superiority. Bob Goodman, who also wrote THE DARK KNIGHT RETURNS animated movie, parallels the overly protective Superman and the overly possessive Brainiac to good effect.
The Blu-ray includes a feature-length audio commentary with director James Tucker, writer Bob Goodman, and DC Comics executive Mike Carlin, featurettes on Kandor and Brainiac, a handful of Supergirl- and Braniac-related episodes from previous DC animated series, and a sneak peek of the next DC Universe animated movie, JUSTICE LEAGUE: THE FLASHPOINT PARADOX, coming in July.
–Gerald So