Tags
Related Posts
Share This
DVD Review: THE AVENGERS: Earth's Mightiest Heroes Season 1, Vols. 3 and 4
Disney Home Video
Release date: October 25, 2011
MSRP: $19.99 each
With this cartoon, Marvel finally has something comparable to the past twenty years of Warner Bros. Animation's DC Comics projects. Volumes 3 and 4 contain the final thirteen episodes of Season 1.
Though there is continuity throughout the whole season, these later episodes find Iron Man, Captain America, Thor, Hulk, Wasp, Ant Man, Black Panther, and Hawkeye in higher-stakes, multi-episode battles against the time-traveling Kang the Conqueror, Ant-Man's warped robot Ultron, and the Norse god of mischief, Loki.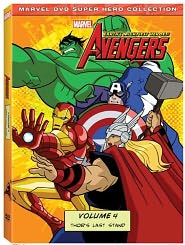 Each volume includes Avengers Unmasked, a pop-up trivia feature that runs during an episode. Any Marvel fan will want to assemble the full season, particularly those who picked up Volumes 1 and 2 back in April.
–Gerald So
For more of Gerald's thoughts and observations, check out his blog: If you want to know about my Life…