Tags
Related Posts
Share This
DVD Review: THE BATMAN: The complete Fifth season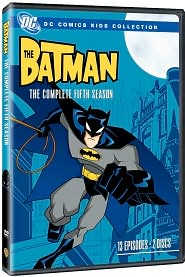 Warner Home Entertainment
Release date: July 8th, 2008
MSRP: $19.98
When I was growing up, cartoons were made for kids. Today, the medium (like comic books) often target adults, using the freedoms of the medium to present stories that live action can not.
Season five of The Batman continues the fine standard set by the previous seasons. This season finds Gotham struggling to recover from destruction wrought by an alien invasion (see season four). So, not surprisingly, The Batman is a busy caped crusader.
Fortunately for him (and usually for us), he often gets a hand from the various members of the Justice League of America. Superman, Hawkman, The Flash, Green Arrow and others pop up to assist in the never-ending battle against evil.
I say usually for us because sometimes it makes for too many cooks in the kitchen (Not the best metaphor, but it is the only applicable one that comes to mind). While I enjoy the other heroes, Batman sometimes if relegated to status of sidekick.
Overall, the story quality is solid, with some being top notch.
Fans of Batman will have fun, but I would suggest picking up the previous seasons first. The fifth season was also the final one, and they went out with style and grace.
Jeremy Lynch