Tags
Related Posts
Share This
DVD Review: THE FADES: Season One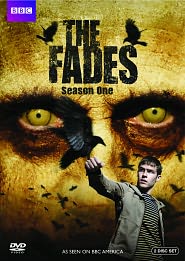 BBC America
Release date: Feb 21, 2012
THE FADES, a new BBC America series written by Jack Thorne, follows awkward high-schooler Paul (Iain De Caestecker) as he develops supernatural abilities after seeing the Fades, the dead that are unable to pass into the afterlife and live among us unseen by all but a few. When one fade finds a way to interact with the living and commits a series of murders, Paul begins helping the Angelics, a group with powers such as his own. As this Fade begins teaching others to regain their corporeal forms, Paul is mentored by an intense and vaguely unsettling Angelic named Neil (Johnny Harris), and finds out that he may be the only one who can stop the coming apocalypse.
The pilot opens with a dark, ominous tone that carries throughout the entire season, with well-placed moments of comic relief from Paul and his equally geeky best friend Mac (Daniel Kaluuya), as they try to find any sort of a social life before the apocalypse arrives. Paul is an endearing lead and viewers will feel for him in his earnest struggle to find a way to balance his new responsibilities with the life he wants to lead among his family and friends—in addition to adjusting to burgeoning powers that include healing abilities and prophetic dreams.
The show has created a fully realized world and its rich mythology is fleshed out over the course of the six-episode season. While the Fades combine elements of ghosts and zombies, the series has transcended the traditional tale to create an amazingly original story. The layered storytelling reveals a carefully crafted season, featuring side storylines regarding Neil, the fade of an Angelic that haunts her past life, and the leader of the Fades, while never losing a grip on Paul's story. This impressive horror series takes care to fully develop the characters, conflicts, and backgrounds that it presents, that will leave viewers invested in the characters and anxiously awaiting a second season.
Kristen Micek.
Follow Kristen on Twitter.