Tags
Related Posts
Share This
DVD Review: THE INVADERS: The Second Season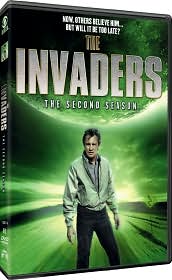 Paramount Home Entertainment
Release date: January 27, 2009
MSRP: $36.98
Stars: Roy Thinnes, Peter Mark Richman, Susan Oliver, John Milford, Kent Smith
This is the second and also final season of Invaders. The premise of this show developed by Larry Cohen is something that is kind of a template today, but back in 1967 it was pretty new. A man discovers the presence of aliens and no one believes him, he is on the run trying to prove the truth. The only other show I know of that did this was a cult UK show called The Omega Factor (Koch Vision). The premise was later taken to great heights by X-Files, but back in '67 this was really new.

The show stars Roy Thinnes, who's career is filled with many roles, including spots on Oz and Sopranos. Thinnes plays architect David Vincent who episode to episode is on the run, and trying to save Earth, whether anyone believes him or not. At first look it's kind of cheesy by today's standards, but truthfully it is a load of fun to watch. The colors are vibrant in the way the sixties show were, un afraid to make the most of the new color technology for TV. There were also a bunch of guest stars, early in their careers. Gene Hackman, Ed Asner, Richard Anderson ( A TV staple of the 70s), Suzanne Pleshette, Ed Begley, and Wayne Rogers.
Unlike a lot of Sci Fi shows they didn't really rely too much on special effects. Given the special effects at the time it's probably just as well. Dr. Who may have seemed cool when the sixties shows aired, but they look really dated now.
26 episodes worth of Season 2 are now out, and some website are offering both 1 and 2 together.
The Invaders was brought back for a mini series in 1995 that was basically universally hated. Thinnes had a small role in it.
Is this a must own show? I would say not really. Is it worth watching? I enjoyed it for what it is and for what they were trying to do. If you keep in mind where we were in 1967 and give them a little slack for that the show is pretty fun to watch.
Order The Invaders from Amazon.
Jon
For more reviews from Jon, and the rest of the Crimespree crew, check out the index of reviews.