Tags
Related Posts
Share This
DVD Review: THE MIDDLE – The Complete First Season.
Warner Home Video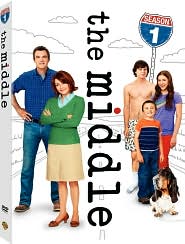 Release date: August 31, 2010
MSRP: $44.98
I have not regularly watched a sitcom for well over a decade. As I have gotten older, I simply find myself drawn to dramas. I don't know that the sitcoms of today are worse than those I grew up with, but it feels like it.
That said, I can't help but recommend The Middle, a current sitcom that is not unlike many before, but one that remembered to bring the funny.
Patricia Heaton (EVERYBODY LOVES RAYMOND) stars as Frankie Heck. Frankie lives in Orson Indiana and is a mother and wife. As the show starts, she has lost her job and is not selling cars, not something she has an interest (or much skills) in.
Frankie's family consists of: Mike (Neil Flynn), a salt of the earth kind of guy that is the foreman at a quarry. Mike still loves his wife and his ideal night is one where all of the kids are gone and he and Frankie can have a romantic evening together.  Axl (Charlie McDermott), the teenage son…that should pretty much be enough…parents are uncool and totally unfair! Sue (Eden Sher), is a cheerful and optimistic geek of a daughter. Despite failing at almost every school activity she tries, she never gives up and still believes in herself.  Brick (Atticus Shaffer), the youngest son and more than a little weird. He mutters to himself and is best friends with…his backpack.

The show mines the typical middle-class family stuff for their material: making ends meet, dealing with the stress of a job you don't especially like, trying to hone your parenting skills…everyday stuff that many of us can relate to (Well, I have no idea about the parenting stuff, but I suspect I would off mine and bury them in the back yard).
The entire cast does a nice job and it is not a stretch to think they are related. Many television families have as much chemistry as a blind date gone bad, but The Middle feels good. It steps away from the cynicism that has been prevalent of late and gives us characters that we can like! The stories are fun and even though they are formulaic, they are worth wating. Every ep ends on an up note with all parties coming together and emphasizing that family matters. I got that message after the seventh or eighth time. Not as syrupy as GROWING PAINS, but a similar vibe…minus Alan Thicke's smarminess (I kind of wanted all of his kids to become crack-whores, if only to wipe that smug smile off his face).
Extras:
We get some deleted scenes, a gag reel (Why are these made? Has anyone ever seen one that was genuinely funny?), a behind the scenes featuette called Raising a Sitcom Family (that is your run of the mill bts promo pace) and Sue's Best Shots, a segment that has the cast and crew talking about their worst school pictures.
THE MIDDLE stands above most of the sitcoms today. While there is no one thing that makes it great, there is nothing bad either. It is a well-written, well-acted sitcom that is not too cynical or hooky.