Tags
Related Posts
Share This
THE MOD SQUAD: Season 2, Volume 1: DVD Review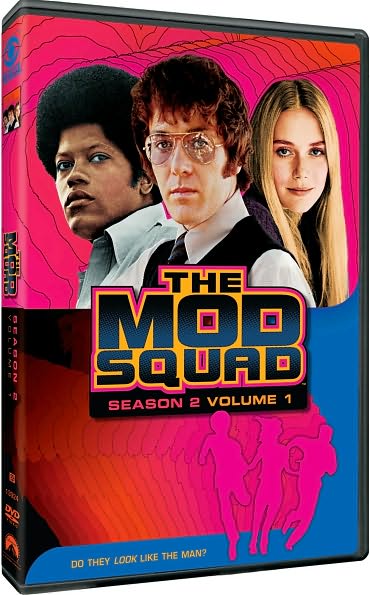 Paramount Home Entertainment
Release date: November 25th, 2008
MSRP: $39.98
Stars: Michael Cole, Clarence Williams III, Peggy Lipton, Tige Andrews, Ross Elliott
Long before Veronica Mars and Buffy, before 21 Jump Street and other shows with the same premise there was THE MOD SQUAD. Truly a first for television as Aaron Spelling and Danny Thomas brought this show to air using young people in a show for young people.
Captain Adam Greer played deftly by Tige Andrews (who was all over television including the Phil Silvers show and Police Story) and he brings these three troubled teens together to work for the cops. He manages to reach them and can work with them in way that doesn't make them feel they are "selling out to the man".
The three young cops are Pete Cochran (Michael Cole) who is from a rich family he can't identify with, "Linc" Hayes (Clarence Williams III) from Watts and Julie Barnes (Peggy Lipton) an idealistic flower child with family issues of her own.

Greer uses the kids to go undercover in places where regular cops can't and as a result we obviously get a look at a lot of the culture of the times as they go after drug dealers, con men and other criminals. The show, is obviously a bit dated because of the way it relies heavily on the times (just as 21 Jumpstreet feels very 80's) to set the feel. This doesn't really take away from the enjoyment though as it feels partly like a snapshot of the times.
The second season has the actors all feeling more at home in their characters and they come across a bit more natural. The real strength come from Clarence Williams III who seems to be totally natural in the role. Some of the episodes have a familiar feeling, but the interpretation on the show works. In My Name is Manolete we see shades of Charles Dickens Oliver Twist, there is also a classic plot re done
here with Pete being drugged and framed for murder.
The show also still feels strangely relevant even though its 40 years old. A lot of the social issues are still with us, illiteracy, stalking, poverty , racism and stereo typing. In fact it's kind of sad that so many of the things that cause hassles on the show are still with us, I guess all that really changes is the music and the clothes.
On a personal note I'd also like to add that I love the fact that in most episodes Linc finds an excuse to leap through the air and tackle someone. It really seems like they were having a lot of fun doing this show.
Mod Squad is still an entertaining show and while it may not be as hard hitting as it was when it came out, I think there is still a lot to enjoy here.
Order The Mod Squad: Season 2, Vol 1 from Amazon.
Jon Jordan
For more reviews from Jon, and the rest of the Crimespree crew, check out the index of reviews.