Tags
Related Posts
Share This
DVD Review: THE ODD COUPLE – Centennial Collection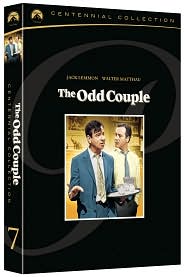 Paramount Home Entertainment
Release date: March 24th, 2009
MSRP: $24.99
Director: Gene Saks
Writer: Neil Simon (play & screenplay)
Stars: Jack Lemmon, Walter Matthau
Lemmon and Mathau in one of their first pairings. Need I say more? …I guess so. Not the first pairing, but one of the first. And a Neil Simon play turned movie to boot! With those three ingredients how could you have anything but a spectacular movie? Well, you could I guess. (Editor's note: Not unless Simon wrote Grumpy Old Men IV) But not this time!
Two guys get divorced from their wives and have to move in together, one's a clean freak, the other is a slob. Not surprisingly, conflict and hilarity ensue.
Sound familiar?
Sound used up?
Cliche?
It is!
BECAUSE of this movie! This is the movie that spawned all the copy cats that made it cliche. But it is still hilarious. I almost fell out of bed laughing when Felix….nevermind, if you haven't seen it, I will not ruin it.
Pick it up! It is worth it!

This DVD version has 2 discs the movie, and a disc of extras. About 4 or so little segments on the Odd Couple, and one about Lemmon and Matthau.
Watching Walter and Jack, you would think they had been working together for years. The chemistry is that strong. Add Simon's smart dialogue and you have a real winner. As fun as the series was, folks really should watch the original film. Not only do you get the mojo of Neil Simon, but Lemon and Mathau at their very best. Good stuff!
Randy Otteson
For more reviews from Randy, and the rest of the Crimespree crew, check out the index of reviews.