Tags
Related Posts
Share This
DVD Review: THE PILLARS OF THE EARTH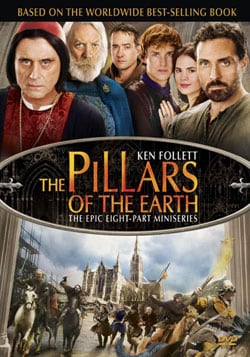 Sony Pictures Home Entertainment
Release date: November 23, 2010
MSRP: $45.99
Actors: Ian McShane, Rufus Sewell, Donald Sutherland, Matthew Macfadyen, Eddie Redmayne, Hayley Atwell, David Oakes
Ken Follet's book was a best seller, the cast is top notch and they really spent some money on this mni series. On paper it looks like a no lose DVD purchase.
Well….
This "epic" tale starts slowly and a bit dis-jointed. But very soon we catch on to what's happening. Middle ages, a family wandering looking for work and a home, Dad is a master builder, Mom is a superstitious woman and their son also shares this trait. The daughter is basically ignored unless need for a plot point. Family loses Mom, family goes to a monastery that need work done and offers to work for lodging and food. Eventually a new cathedral is built. Along the way we have Kings and Queens fighting for the throne, crusades and lot of fighting.
But do you know what I saw? Things stolen right out of Robin Hood and the Tudors and any number of films that actually did a great job of capturing the period. I'd seen it all before, and done better. My first thought that the writer was a youngster who had never seen any movies or television, but actually John Pielmeir is an award winning playwright with a fair amount of television credits.
Donald Sutherland and Ian McShayne  and the rest of the cast probably had a lot of fun dressing up in the period outfits, and their acting was fine. It's just a shame that the material felt like a patch work compilation of so many other things. Not a single thing that happened was a surprise to me, and I have not read the book. When all was said and done I felt like I wasted 428 minutes.
Jon Jordan