Tags
Related Posts
Share This
DVD Review: THIS AMERICAN LIFE: Season one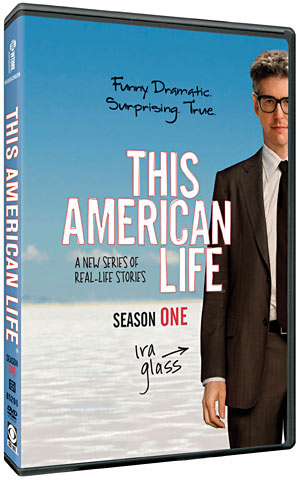 Showtime Ent./Paramount Home Entertainment
Release date: September 23rd, 2008
MSRP: $19.99
Star: Ira Glass
When I heard that public radio's This American Life was making the leap to Showtime, I was first excited, then a little dubious–rather similar to how I feel when a favorite book becomes a film or a TV series. Would the offbeat show translate well, or would it lose its heart, becoming too commercial and slick? And importantly, would Ira Glass look like Ira Glass sounds? I certainly didn't expect Brad Pitt, but there's a reason that some people do radio.

As it turns out, Glass is every bookish girl's dreamboat, with charmingly rumpled hair and large, owlish glasses. Indeed, This American Life the series is basically identical to WBEZ's radio program in structure and tone–and that's a very good thing. Each half-hour episode presents a small handful of thematically linked stories about people and places that generally aren't headline news. For the most part, Glass and company stay out of the way of the story; which must present a challenge when filming material as diverse and potentially controvertial as liturgical art, lab rats, verbally abusive hot dog stand patrons, dysfunctional families, standup comedy about 9/11, and peeing one's pants on a schoolbus.

Some of the vignettes in the six-episode arc are not for the squeamish–in particular, a story about a pig farm that had a crew member tossing his cookies and swearing off meat forever. I know this is tame stuff by Crimespree Cinema standards…but what about the farmer who cloned his favorite tame pet bull, only to be gored by the genetically engineered offspring in a place that a man would, ahem, least want to be gored? Yeah, that hurts…but the story is still handled with grace and wit, and without a hint of sensationalism.

In short, while This American Life the series shouldn't replace the radio program in viewers' hearts, it is a most excellent companion. Do yourself a favor and pick up a copy. The next time you binge on crap reality television, consider an hour or two with Glass and company the antidote to the existential angst brought on by, say, Big Brother, Rock of Love, or [shudder] Shot at Love with Tila Tequila. You'll feel better in no time!

Order season one of This American Life from Amazon.
Jill Lynch
For more reviews from Jill, and the rest of the Crimespree crew, check out the index of reviews.