Tags
Related Posts
Share This
DVD Review: TO CATCH A THIEF – The Centennial Collection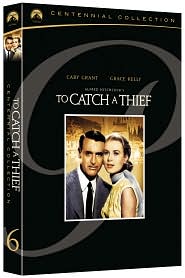 Paramount Home Entertainment
Release date: March 24th, 2009
MSRP: $24.99
Director: Alfred Hitchcock
Stars: Cary Grant, Grace Kelly, Jessie Royce Landis, John Williams, Charles Vanel
Writer: John Michael Hayes (Screenplay), David Dodge (Novel)
Alfred Hitchcock is best known for his darker films, the ones that have viewers clutching their chest and sitting on the edge of their seats. Films like The Birds, Vertigo and Psycho have earned Mr. Hitchcock a reputation as a director that keeps his viewers guessing with tricks, twists and brilliant shots.
But To Catch a Thief shows that Hitchcock could do far more than just shock and surprise. TCAT is a breezy, romantic thriller that is a hell of a lot of fun. Many critics have described it as one of Hitch's weaker films. It is my opinion that those critics have sipped too much sherry and need to pull their heads out of their asses.

TCAT features Cary Grant as John Robie, a notorious burglar that went by the moniker The Cat. Mr. Robie has gone straight but somebody is emulating his style, thus putting in the crosshairs of the police.
Since the authorities have all but made up their mind that Robie is behind the thefts, Robie has no choice but to attempt to snag the real thief and thus clear his own name. With the assistance of a beleaguered insurance agent (John Williams), whose superiors are upset at having to pay out for all of the missing jewels, Robie sets out to do just that.
His plan is to stake out millionairess Jessie Stevens, whom he views as the likely next target of the New Cat. While he has his eyes on Jesse, her daughter Francie (Grace Kelly) has her eyes on Robie. Francie knows Robie's identity and finds that all the more exciting. This leads to fun and games until Jessie's jewels disappear.
This turn of events makes Robie's situation all the more precarious. He has one last chance to catch the thief and clear his name.
To Catch A Thief features a certain amount of playfulness that is not common in his films. TCAT does it's job in that it entertains the viewers and lets you sit back, relax and enjoy a leisurely romp through the French Riviera. All that it is lighter than most of his work, Hitchcock still clearly put a lot of time and effort into making TCAT. The film is stylish and contains some fantastic shots. One particular scene between Kelly and Grant has her shroud in shadows with the moonlight shining down in the jewels around her throat.
Extras:
Hitchcock expert Dr. Drew Casper offers up a fairly detailed commentary track. He covers not just the making of the film, but production and even talks about the novel that the film is based on. While casual folks may find it dry at times, it is informative and will be enjoyed by film buffs.
A Night with the Hitchcocks finds Hitchcock's daughter, Pat , and granddaughter, Mary Stone, fielding questions from the students of a USC film class. We are treated to anecdotes that offer insight into the man as well as his views on films and how he approached his craft.
Unacceptable Under the Code: Film Censorship in America: Throughout his career, Hitchcock pushed the boundaries of what was acceptable in films. This featurette talks not just about his own dalliances with the censors, but censorship in general. While I understand the frustrations he must have felt, I can't help but think it resulted in some rather creative film-making.
Behind the Gates: Cary Grant and Grace Kelly. Like the BTG featurettes from the previous releases in the Centennial Collection, this offers a brief glimpse into the lives and careers of the stars of TCAT. Nothing here that most won't already know.
Also included are three featurettes from the 2002 release (Writing and Casting of TCAT, The Making of TCAT and Alfred Hitchcock and TCAT: An Appreciation). These provide a general overview of the making of the film and the casting choices. TCAT: An Appreciation contains more from Pat Hitchcock and Mary Stone and talks about the differences between the public figure and who he was at home.
Rounding out the set is Edith Head: The Paramount Years, a trailer and a collections photo Galleries (The Movie, Publicity, Visitors to the Set, Production Part I and Production Part II).
TCAT features a beautiful locale, two icon stars and one of the greatest directors of all time. What more do you need? While it is certainly frustrating to see studios double and triple dip, this edition is the best so far and gets my hearty recommendation.
Order To Catch A Thief from Amazon.

Jeremy Lynch
For more reviews from myself, and the rest of the Crimespree crew, check out the index of reviews.