Tags
Related Posts
Share This
DVD Review: UFC – THE BEST OF 2010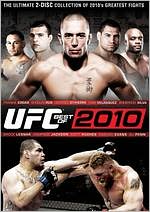 Anchor Bay
Released: March 29th, 2011
MSRP: $19.98
2010 was a notable year, both inside the cage and out, for the UFC. In UFC: The Best of 2010, we are treated to some of the best or, in some cases, more notable matches of the 2010 (Hence the title of best of 2010). This set is not just a list of fights, each weight class has it's own section with narration, highlights and summaries of other bouts in that class. Some fighters (GSP, Matt Hughes for example) get their own little featurettes.
Lightweight
UFC 119: Sean Sherk vs. Evan Dunham
UFC 110: Joe Stevenson vs. George Sotiropoulos
Bonus LW bouts:
UFC 108: Cole Miller vs. Dan Lauzon
UFC 117: Melvin Guillard vs. Waylon Lowe
UFC 122: Dennis Siver vs. Andre Winner
UFC 123: George Sotiropoulos vs. Joe Lauzon
UFC 124: Jim Miller vs. Charles Oliveira
Welterweight:
UFC 123: Matt Hughes vs. BJ Penn
UFC 115: Carlos Condit vs. Rory MacDonald
Bonus WW bouts:
UFC 120: Dan Hardy vs. Carlos Condit
Middleweight
UFC 117: Chael Sonnen vs. Anderson Silva
Light Heavyweight
UFC 113: Lyoto Machida vs. Mauricio "Shogun" Rua
UFC 114: Quinton "Rampage" Jackson vs. Rashad Evans
UFC on Versus 1: Brandon Vera vs. Jon Jones
UFC on Versus 2: Jon Jones vs. Vladimir Matyushenko
Bonus LHW bouts
UFC 115: Chuck Liddell vs. Rich Franklin
UFC 116: Stephan Bonnar vs. Krysztof Soszynski
Heavyweight
UFC 110: Minotauro Nogueira vs. Cain Velasquez
UFC 116: Brock Lesnar vs. Shane Carwin
UFC 121: Brock Lesnar vs. Cain Velasquez
Following are HW bonus fights:
UFC on Versus 2: Gabriel Gonzaga vs. Junior dos Santos
UFC 118: Randy Couture vs. James Toney
This set does a nice job of offering up an overview of each weight class for 2010. I will say that not including UFC 116's Chris Leben vs. Akiyama is insane. That bout was one of the best of 2010 overall and had the arena (as well as the bar I watched it in, rocking. While there are a number of other bouts that one could make a case for, that bout is a no-brainer. And while the WEC existed through 2010, it would have been a nice touch to include WEC bouts here to help familiarize casual fans with those fighters.
I don't get why there are "bonus" matches separated from the main segments, unless the main segments are meant for television broadcast.
But with all of the bouts, this set is well worth the money and provides some bouts not available elsewhere on DVD. This set is ideal for those that casually watch the UFC and do not buy all of the DVDs.
Order UFC: The Best of 2010.
Jeremy Lynch