Tags
Related Posts
Share This
DVD Review: UNTOUCHABLES: SEASON 3,Vol. 1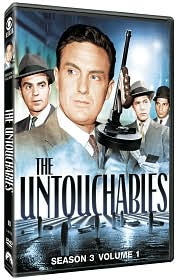 CBS/Paramount Home Entertainment
Release date: Aug 25th, 2009
MSRP: $39.99
Stars: Robert Stack, Walter Winchell, Nicholas Georgiade, Paul Picerni, Abel Fernandez
The Untouchables was originally based on the book by Elliot Ness. (He didn't live to see publication). They pretty quickly worked through all the material and began creating fictionalized stories.

The common theme here is that Frank Nitti needs to be taken down, the bad guys are really bad and the good guys are righteous. Season three sees the action taken up a few notches as the mob really tries to take Elliot Ness out of the equation. Guest stars include Murray Hamilton, Ned Glass, Vincent Gardenia, a young Peter Falk, Carroll O'Connor, Wendell Corey, Martin Balsam, Don Gordon, Marc Lawrence, Arlene Martel, Telly Savalas, Jack Klugman, Martin Landau, Gavin MacLeod, Cloris Leachman, Anne Helm, Mike Kellin, Harold J. Stone, John Larch, JoanStaley, Arthur Hill, Herschel Bernardi, Victor Buono, Dyan Cannon, Bert Convy, Henry Silva and Edward Asner.
The untouchables was always good for high drama and action but season three seems to be stronger, maybe due to the fact that a lot of the stories are original and not based on actual events as much. The writers were able to create scenarios which feel honest and were exciting. The acting was wonderful two, Robert Stack feels less stoic in this season and very comfortable in the role of Ness.
The show is great fun and the remaster is crisp and looks great. Season 3.5 is coming in November.
Jon