Tags
Related Posts
Share This
DVD/Blu-ray release recap fof Nov 17th, 2009.
ANDY BARKER, P.I.: The Complete Series (2007) Andy Richter $24.99, Extras: Retrospective feature "Going Where the Numbers Take You" containing interviews with Conan O'Brien, Andy Richter and other members of the cast and creative team; the "Writers Class 101" feature, with co-creator Jonathan Groff and writers Josh Bycel, Jane Espenson and Jon Ross; cast and crew commentaries; gag reel. (Shout! Factory).
From the hilarious minds of Conan OBrien (The Tonight Show) and Jonathan Groff comes Andy Barker P.I., an off-the-wall comedy about earnest, hard-working CPA-turned-detective, Andy Barker (played by Andy Richter, Late Night with Conan OBrien), and featuring the extraordinary writing talents of Conan OBrien (The Simpsons), Jonathan Groff (How I Met Your Mother), Jane Espenson (Buffy the Vampire Slayer) and Josh Bycel (Psych). The show premiered on the NBC network
and was immediately greeted with critical praise.

ELVIS COSTELLO – SPECTACLE: Season 1 (2009) DVD: $49.95, Blu-ray: $69.95 . Extras: Extended episodes, behind-the-scenes interviews, outtakes. (MVD Entertainment Group).
This show features intimate one-on-one conversations and live performances with legendary artists and notable newcomers. Conceived to provide a forum for in-depth discussion and performance with the most interesting artists and personalities of our time, "Spectacle: Elvis Costello With …" fuses the best of talk and music television. Each of the thirteen one-hour episodes exposes the essence of iconic and influential figures who are given the rare opportunity to speak intelligently and in-depth about music and their careers — how their classic songs were written and why; their experiences; their influences and the creative process overall, revealing new insights about their extraordinary work and lives. Guests include Elton John, president Bill Clinton, Tony Bennett, Lou Reed, Julian Schnabel The Police, Smokey Robinson, Rufus Wainwright, Jakob Dylan, Diana Krall, Herbie Hancock, Kris Kristofferson, Roseanne Cash, Norah Jones, John Mellencamp, James Taylor and more.
I know, Elvis is not crime-related, but it is Elvis Freakin' Costello! Folks looking for a gift for the music lover in their life might want to take a look at this. An interesting concept that Elvis pulls off quite well.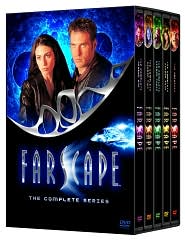 FARSCAPE: The Complete Series Megaset (1999-2003), $149.95. Extras: 29 Episode commentaries; multiple featurettes and documentaries including "In the Beginning: A Look Back With Brian Henson," "Making of a Space Opera" and "Inside Farscape: Save Farscape"; multiple video profiles featuring archival clips and cast and crew discussing their characters and roles; more than 90 minutes of deleted scenes; sideshows and archival photo galleries, including character concepts and promo photos; production design galleries featuring screenshots, rough drafts and concept slide shows; behind-the-scenes interviews with Ben Browder, Claudia Black, Anthony Simcoe, Virginia Hey, Gigi Edgley, Paul Goddard, Wayne Pygram; original TV promos and trailers.(A&E Home Entertainment).
John Crichton. Astronaut. Flung through a wormhole and lost in a galaxy far from
home. He finds himself in the middle of a prison break, surrounded by hostile
aliens, soaring through space inside a glorious living space ship called Moya.
Hunted by the relentless Peacekeepers, he allies himself with his unimaginably
alien fellow refugees and searches for a way home.So begins the epic sci-fi
classic Farscape. A fusion of live action, state-of-the-art puppetry,
prosthetics and CGI, Farscape features mind-boggling alien life forms, dazzling
special effects, edge-of-your-seat thrills, irreverent humor and unforgettable
characters all brought to life by the creative minds at Jim Henson's Creature
Shop. No wonder it's been called the most imaginative sci-fi series in
television history.Here, in time for the series tenth anniversary, are all four
Farscape seasons, 88 episodes, together for the first time in one epic
collection. These are the adventures of Moya's crew, Crichton, Peacekeeper Aeryn
Sun, warrior Ka D'Argo, azure priestess Zhaan, spritely thief Chiana, Dominar
Rigel, Pilot and many others. Like Moya herself, this package contains amazing
surprises including hours of bonus materials, making-of featurettes,
commentaries, interviews, deleted scenes and much more. Prepare for Starburst!

GONE WITH THE WIND (1939) Three 50th Anniversary editions: Two-disc special edition: $24.98; Five-disc Ultimate Collector's Edition: $69.92; Blu-ray Ultimate Collector's Edition: $84.99. The Ultimate Collector's Editions will also contain collectible memorabilia.
Extras:
Two Disc DVD: Commentary by historian Rudy Behlmer.
DVD & Blu-ray Ultimate Collector's Editions:
Disc 3: About The Movie:
The Making of a Legend documentary (1989 TV Special) (Narrated by Christopher Plummer)
Restoring a Legend – Chronicles the film/video restoration process, Dixie Hails Gone with the Wind -1939 Premiere newsreel, 1940 MGM historical short – The Old South, Atlanta Civil War Centennial 1961 premiere newsreel, International prologue, Foreign language version sample scenes, Theatrical Trailers
Disc 4: About the Cast: Melanie Remembers: Reflections by Olivia de Havilland – Exclusive 2004 Documentary, Cast profile – Gable: The King Remembered, Cast profile – Vivien Leigh: Scarlett and Beyond, The Supporting Players – Cameo portraits of an unforgettable ensemble
Disc 5: New Bonus Disc:
Warner Bros. Home Entertainment presents 1939: Hollywood's Greatest Year – New documentary about Hollywood's watershed year narrated by Kenneth Branagh, Gone with the Wind: The Legend Lives On — Exploring the legacy of the most beloved film through, illuminating interviews, footage and visits to historical sites, events and museums, Moviola: The Scarlett O'Hara Wars 1980 WBTV Special never before on home video, Trailers.
20-page reproduction of the original and complete 1939 Souvenir Program; 40-page Production History Book with photos and production notes; eight Frameable 5×7 Art Prints; CD soundtrack sampler featuring eight tracks (Main Title, Tara, The Barbecue, Escape From Atlanta, I'll Never Be Hungry Again! Paddock Scene, Scarlett In The Mist/Rhett Leaves, Flashback/Finale)
Blu-ray contains all of the above materal, plus MGM: When The Lion Roars Documentary (Warner)
Period romance. War epic. Family saga. Popular fiction adapted with
crowd-pleasing brilliance. Star acting aglow with charisma and passion.
Moviemaking craft at its height. These are sublimely joined in the words Gone
with the Wind. This dynamic and durable screen entertainment of the Civil
War-era South comes home with the renewed splendor of a New 70th-Anniversary
Digital Transfer capturing a higher-resolution image from Restored Picture
Elements than ever before possible. David O. Selznick's monumental production of
Margaret Mitchell's Pulitzer Prize-winning book can now enthrall new generations
of home viewers with a majestic vibrance that befits one of Hollywood's greatest
achievements.

LEON: THE PROFESSIONAL (Blu-ray)Dir: Luc Besson. stars: Jean Reno, Gary Oldman, Natalie Portman, Danny Aiello, Peter Appel. $24.95 Extras: 10 Year Retrospective: Cast and Crew Look Back, Jean Reno: The Road to Leon, Natalie Portman: Starting Young, Fact Track. (Sony)
Jean Reno, Gary Oldman, Natalie Portman and Danny Aiello star in Leon: The Professional, a go-for-broke thriller about a professional assassin whose work becomes dangerously personal. Calling himself a "cleaner", the mysterious Leon (Reno) is New York's top hitman. When his next-door neighbors are murdered, Leon becomes the unwilling guardian of the family's sole survivor – 12-year-old Mathilda (Natalie Portman), but Mathilda doesn't just want protection; she wants revenge. Training her in the deadly tricks of his trade, Leon helps her track the psychotic agent (Oldman) who murdered her family.

ROME (2005-2007) Ten-disc set of the HBO series that follows the lives of two soldiers during the "fall of the Roman Empire," $99.98; Also available on Blu-ray Disc for $139.99. (HBO Home Entertainment).
Four hundred years after the founding of the Republic, Rome is the wealthiest city in the world, a cosmopolitan metropolis of one million people, epicenter of a sprawling empire. But now, the city's foundations are crumbling, eaten away by
corruption and excess…And two soldiers unwittingly become entwined in historical events, their fates inexorably tied to the fate of Rome itself. The entire award-winning, critically-acclaimed series will be available as a gift set, just in time for the holiday season.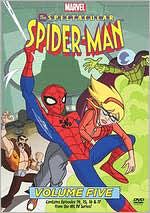 THE SPECTACULAR SPIDER-MAN: Volume 5 (2009) Season 2 of the animated TV series that was recently re-launched on Disney's XD network; pits the super hero against super villains Kraven, Mysterio and The Sinister Six. $19.94. (Sony).
Witness the original web-slinger's mythology from the beginning! Peter Parker is a not so typical high school junior, fresh off an exciting summer engaging common criminals with his new found powers. But now he must conceal his secret identity as "Spider-Man", while engaging a new level of terror: the multi-leveled pressures of teenage life at home/school with combating bigger, badder super villains in the real world!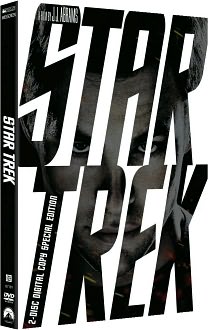 STAR TREK (2009) Dir.: J.J. Abrams; Stars: John Cho, Ben Cross, Bruce Greenwood, Simon Pegg, Chris Pine, Zachary Quinto, Winona Ryder, Zoe Saldana, Karl Urban, Anton Yelchin, Eric Bana, Leonard Nimoy, Marlene Forte, Jimmy Bennett. Three-disc Blu-ray set with digital copy: $39.99, Two-disc DVD with digital copy: $34.98, Single-disc DVD: $29.99. Extras: Commentary by director J.J. Abrams, writers Robert Orci and Alex Kurtzman, producer Damon Lindelof and executive producer Bryan Burk; "A New Vision" behind-the-scenes featurette; Gag Reel; bloopers featuring the entire principal cast; digital copy, deleted scenes with optional commentary, "To Boldly Go" featurette on the many challenges re-imagining the "Star Trek" franchise; casting featurette; "Aliens Designers" featurette; featurette on the score; "Starfleet Vessel Simulator" that allows viewers to explore extensive data on the U.S.S. Enterprise and the Romulan ship, the Narada, with 360-degree views, close-ups and detailed tech information (by holding their disc packaging up to a webcam, a Star Trek visual cue will morph into a 3D holographic tour on the screen), more. Blu-ray: "NASA News," branching pods, a starship featurette, featurettes on the locations and props, "Gene Roddenberry's Vision" featurette, more. (Paramount).
The greatest adventure of all time begins with Star Trek, the incredible story of a young crew's maiden voyage onboard the most advanced starship ever created: the U.S.S. Enterprise. On a journey filled with action, comedy and cosmic peril, the new recruits must find a way to stop an evil being whose mission of vengeance threatens all of mankind. The fate of the galaxy rests in the hands of bitter rivals. One, James Kirk (Chris Pine), is a delinquent, thrill-seeking Iowa farm boy. The other, Spock (Zachary Quinto), was raised in a logic-based society that rejects all emotion. As fiery instinct clashes with calm reason, their unlikely but powerful partnership is the only thing capable of leading their crew through unimaginable danger, boldly going where no one has gone before.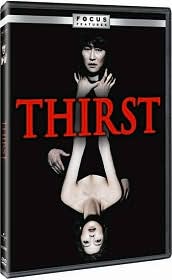 THIRST (2009) Dir.: Chan-wook Park; Stars: Kang-ho Song, Ok-vin Kim, Hae-sook Kim. $29.98(Universal).
From the acclaimed director of the global hit "Old Boy" comes this original vampire story with a chilling, erotic style. A blood transfusion saves the life of a priest, but also transforms him into a vampire. He struggles to control his insatiable thirst for blood until a love affair unleashes his darkest desires in deadly new ways.