Tags
Related Posts
Share This
DVD/Blu-ray releases for Jan 12th.
Breaking Point (2009) Tom Berenger, Busta Rhymes, Armand Assante, Sticky Fingaz, Musetta Vander. $26.98 Extras: Commentary with director Jeff Celentano and Busta Rhymes, behind-the-scenes featurette, interviews, deleted scenes, stills gallery. (Barnholtz Entertainment)
A dramatic tale of corruption and self-realization, in which a once prominent criminal defense attorney attempts to come back to the profession after a struggle with drug addiction and a family tragedy. Against his better judgment, he takes on a complex, high profile murder case that will eventually lead him down a path that brings him face to face with a deep-rooted conspiracy and his own demons.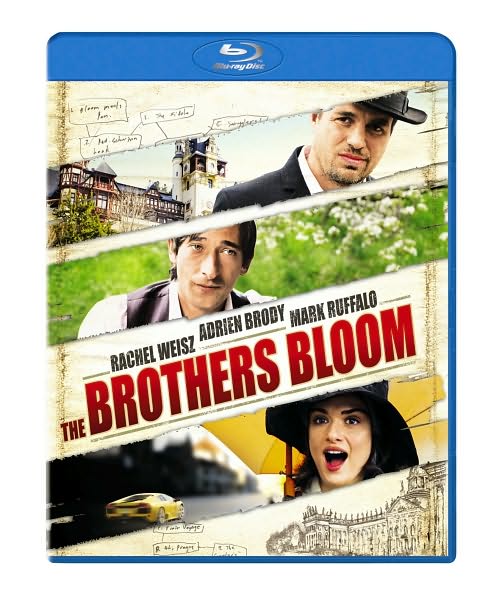 The Brothers Bloom (2008) Rachel Weisz, Adrien Brody, Mark Ruffalo. DVD: $19.99 Blu-ray: $34.99 . (Summit Entertainment).
The Brothers Bloom are the best con men in the world, swindling millionaires with complex scenarios of lust and intrigue. Now they've decided to take on one last job — showing a beautiful and eccentric heiress the time of her life with a romantic adventure that takes them around the world while they swindle her … until she turns the tables on them.
Ca$h (2008) Thom Doty, Jerry Lloyd, Ray Stanton. $24.95 (MTI Home Video).
A hard-boiled tale of bloody revenge… Cash, a gun-slinging ex-convict, is on a death quest to find Hector Gonzales, the man who murdered his wife over a decade ago. Hector Gonzales is a ruthless kingpin who has risen through the ranks over the last ten years and now stands on the verge of ruling the city – a city on the verge of an all out syndicate war. Cash and Gonzales are on an ultra-violent collision course that will determine, once and for all, who owns the streets.
Cliffhanger (Blu-ray)(1993) Sylvester Stallone, John Lithgow, Janine Turner. $24.95 Extras: Commentary by director Renny Harlin and Sylvester Stallone, Technical Crew Commentary, introduction by Renny Harlin, deleted scenes, "Stallone on the Edge: The Making of Cliffhanger," special effects featurettes, storyboard comparisons, movieIQ (which connects to real-time information on the cast, music, trivia and more while watching the film. (Sony).
Sarah was an inexperienced climber. She trusted Gabe to rescue her. But something went wrong high above the valley floor…Sylvester Stallone, John Lithgow, Michael Rooker, Janine Turner and Ralph Waite star in this high-altitude avalanche of action: a non-stop adventure peak with suspense and capped with heart-quaking terror. For Rocky Mountain Rescue, the mission is almost routine: locate five climbers. With the woman he loves (Turner) and his best friend (Rooker), Gabe Walker (Stallone) braves the icy peaks only to discover that the distress call is really a trap set by merciless international terrorist Eric Qualen (Lithgow). Now millions of dollars and their own lives hang in the balance. Against explosive firepower, bitter cold, and dizzying heights, Walker must outwit Qualen in a deadly game of hide-and-seek.
Downloading Nancy (2009) Maria Bello, Jason Patric, Rufus Sewell, Amy Brenneman. $27.99 (Strand).
When Albert Stockwell (Rufus Sewell) comes home from work one day he finds a note from his wife of 15 years, Nancy (Maria Bello), saying she has gone to see friends. After waiting several days, Albert realizes that his wife is missing. Nancy has met her salvation on the Internet in the form of Louis Farley (Jason Patric). Nancy and Louis, both wounded souls, take comfort in one another through e-mail, pictures, and promises of perverse sexual encounters. Nancy has finally found the one and only thing that can liberate her from the pain in her life. While she pursues the freedom that she feels will only come with ultimate liberation, Albert is left to put the pieces together and try to salvage what is left.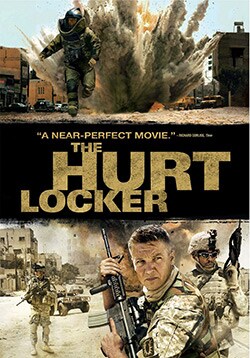 The Hurt Locker (2009) Director: Kathryn Bigelow. Stars: Jeremy Renner, Anthony Mackie, Brian Geraghty, Ralph Finnes, Guy Pearce. DVD: $26.99, Blu-ray: $34.99 (Summit Entertainment).
THE HURT LOCKER is an intense portrayal of elite soldiers who have one of the most dangerous jobs in the world: disarming bombs in the heat of combat. When a new sergeant, James (Jeremy Renner), takes over a highly trained bomb disposal team amidst violent conflict, he surprises his two subordinates, Sanborn and Eldridge (Anthony Mackie and Brian Geraghty), by recklessly plunging them into a deadly game of urban combat. James behaves as if he's indifferent to death. As the men struggle to control their wild new leader, the city explodes into chaos, and James' true character reveals itself in a way that will change each man forever.
Last Action Hero (1993) Arnold Schwarzenegger, F. Murray Abraham, Art Carney. Extras: movieIQ (which connects to real-time information on the cast, music, trivia and more while watching the film. (Sony).
Action-adventure superstar Arnold Schwarzenegger bursts through the screen as a larger-than-life movie hero in this nonstop adventure from acclaimed director John McTiernan (Predator, Die Hard).

Moon (2009) Sam Rockwell, Kaya Scodelario, Benedict Wong, Matt Berry, Malcolm Stewart, Dominique McElligott, voice of Kevin Spacey. DVD: $27.96 , Blu-ray: $37.95 Extras: Commentary by writer-director Duncan Jones, director of photography Gary Shaw, concept designer Gavin Rothery and production designer Tony Noble; commentary by writer-director Duncan Jones and producer Stuart Fenegen; "The Making of Moon" featurette; "Creating the Visual Effects" featurette; Science Center Q&A with director Duncan Jones; filmmaker's Q&A at the Sundance Film Festival.(Sony)
Sam Bell (Sam Rockwell) is nearing the completion of his 3-year-long contract with Lunar Industries, mining Earth's primary source of energy on the dark side of the moon. Alone with only the base's vigilant computer Gerty (voiced by Oscar-Winner Kevin Spacey, 1999 Best Actor, American Beauty) as his sole companion, Bell's extended isolation has taken its toll. His only link to the outside world comes from satellite messages from his wife and young daughter. He longs to return home, but a terrible accident on the lunar surface leads to a disturbing discovery that contributes to his growing sense of paranoia and dislocation so many miles away from home. Moon is an engrossing, intelligent sci-fi thriller that ranks with genre classics like 2001: A Space Odyssey.

Robin Hood: Season Three (2009) Five-disc set with 13 episodes from the final season of the popular BBC America series. $47.95 Extras: "A Legend Reborn" behind-the-scenes featurette, "A New Look" costuming featurette, "Trebuchet: Creating Chaos" featurette, character profiles, video diary. (BBC/Warner).
The legend continues… With new allies and old enemies, Robin Hood returns for a third series full of thrilling adventures as Robin and his gang continue to outwit the dastardly Sheriff and his forces. As the series begins, the outlaws are in disarray. Marian is dead and Robin has split up the gang and launched a solo mission to avenge her and kill Gisborne. It is only the intervention of the mysterious Tuck that stops Robin joining Marian in an early grave. Which is bad news for Gisbourne and the Sheriff. Under pressure from Prince John, they must take down Robin Hood once and for all. When the prince, tired of their ineffectualness and bad leadership, arrives in Nottingham to reprimand the Sheriff and Gisbourne, it becomes clear that there is only room forone sidekick at his table,but which one?