Tags
Related Posts
Share This
DVD/Blu-ray releases for Jan 19th, 2010

21 JUMP STREET: The Complete First Season (1987) Johnny Depp, Steven Williams, Peter DeLuise, Holly Robinson Peete, Dustin Nguyen Two-disc set with 13 episodes, $14.98. (Mill Creek Entertainment).
Officer Tom Hanson (Johnny Depp) leads his band of agents in the special Jump Street division by going undercover to infiltrate local schools to put a stop to crime and keep students safe from corrupt influences. The 21 Jump Street team is a mixed group including the wise cracking Officer HT Loki (Dustin Nguyen), the brilliant Officer Judy Hoffs (Holly Robinson Peete), the streetwise Officer Doug Penhall (Peter DeLuise) and the hard-nosed Captain Adam Fuller (Steven Williams).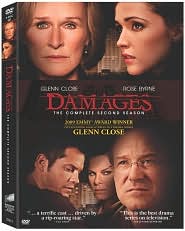 DAMAGES: The Complete Second Season (2009) Glen Close, Rose Byrne, Ted Danson. Three-disc set with 13 episodes, $49.95. Extras: Commentary by the cast members and creators, deleted scenes, a look back at Seasons 1 and 2, character profiles. (Sony).
Seven Emmy nominations for this season of the award-winning show! After her unprecedented victory over billionaire Arthur Frobisher (Ted Danson), Patty Hewes (Glenn Close) has the legal world at her feet. Just as she's pondering her next move, Daniel Purcell (William Hurt), a man from Patty's mysterious past, storms back into her life, catapulting Patty into a new legal challenge. What starts as a domestic murder case, escalates into the highest reaches of government as Patty unearths a vast conspiracy. At the same time, Ellen (Rose Byrne) is on a mission to take down Patty. She's agreed to act as an informant for the FBI, assisting them in their criminal investigation of Patty and the firm. As Patty unravels the mystery surrounding Daniel Purcell, she must also negotiate the perilous minefield both inside and outside her office.
DEFYING GRAVITY Season One (2009) Four-disc set with 13 episodes, $49.98. Extras: Five never-before-seen episodes, deleted scenes, production sketches, design featurettes, "Mission Accomplished" A Look at Defying Gravity" featurette. (Fox).
Set in the very near future, eight astronauts from five countries undertake a mysterious six-year international mission on the spaceship Antares. This sexy and provocative sci fi thriller follows 4 men and 4 women through the solar system where their pasts reveal intimate and interconnected secrets that have a strange effect on the present and mysteries yet to be revealed.

HUNTER: The Complete First Season (1984)Fred Dryer, Stephanie Kramer Three-disc set with 19 episodes, $14.98. (Mill Creek Entertainment).
Often dubbed as television's answer to Dirty Harry, former football star Fred Dryer lights up the screen as Los Angeles Police Department detective Rick Hunter, a renegade cop who breaks the rules and takes justice into his own hands. Partnered with the equally stunning and rebellious Sgt. Dee Dee "The Brass Cupcake" McCall (Stepfanie Kramer), the tough-minded duo bring an edgy attitude, extreme action, sly humor and sexual chemistry while cracking down on L.A.'s slimiest criminals.
THE KEEPER (2009) Steven Seagal, Luce Rains, Kisha Sierra. Steven Seagal thriller about an ex-cop caught in a web of deceit, racism and murder. Double-crossed by his rogue partner and forced to retire, Los Angeles street cop Rolland Sallinger (Seagal) accepts a gig guarding the beautiful daughter of a wealthy businessman. But when mobsters kidnap the girl, Rolland's job turns from protector to hunter as he untangles a dangerous web of lies and murder. (Fox).
Double-crossed by his rogue partner and forced to retire, Los Angeles street cop Rolland Sallinger (Seagal) accepts a gig guarding the beautiful daughter of a wealthy businessman. But when mobsters kidnap her, Sallinger's job turns from protector to hunter as he untangles a dangerous web of lies and murder. Now, in a race against time, Sallinger must use his wits, weapons and brute force to get her back – before it's too late!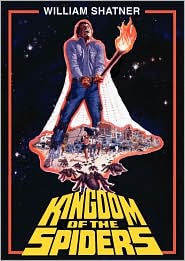 KINGDOM OF THE SPIDERS (1977) William Shatner, Woody Strode, Tiffany Bolling, Roy Engel, Lieux Dressler. Extras: All new interview with William Shatner; commentary by director John Bud Cardos, producer Igor Kantor, spider wrangler Jim Brockett and cinematographer John Morrill; "Jim Brockett: Spider Wrangler" featurette; rare behind the scenes footage; poster gallery. (Shout! Factory).
All-new anamorphic widescreen transfer of the cult film. An Arizona town infested with a horde of arachnids turn on the humans whose insecticides have depleted their natural food supply.
LAW & ORDER: The Seventh Year (1996-97) Carey Lowell, Benjamin Bratt, Sam Waterston and Jerry Orbach. Five-disc set with 23 episodes, $59.98. (Universal).
Unrelenting, powerful and full of twists, Law & Order remains TV's longest running crime series of all time. Honored with 11 consecutive Primetime Emmy® Award nominations for Outstanding Drama Series and an amazing 50 Primetime Emmy® Award nominations since its inception, this acclaimed and intelligent series continues to captivate audiences with its provocative storylines ripped from today's news headlines. And now, the entire Seventh Year—all 23 groundbreaking episodes—are available on DVD in this five-disc collector's set. Carey Lowell joins returning stars Benjamin Bratt, Sam Waterston and Jerry Orbach as they take on new cases that deal with everything from explosive race relations to poisonous blood relations. Also featuring guest stars Taye Diggs, Edie Falco, Lauren Graham, Felicity Huffman, Jennifer Esposito and more, it's hard-hitting viewing that sets the bar for every other legal drama ever made.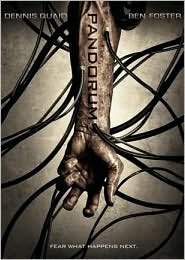 PANDORUM (2009) Dennis Quaid, Ben Foster, Antje Traue, Cung Le, Norman Reedus, Cam Gigandet. Extras: "The World of Elysium" behind-the-scenes featurette, "What Happened to Nadia's Team," flight team training video, commentary with director Christian Alvart and producer Jeremy Bolt, deleted and alternate scenes, still galleries. Also available on Blu-ray Disc. (Anchor Bay Entertainment).
In Pandorum, Dennis Quaid (Vantage Point, The Express) and Ben Foster (3:10 to Yuma, Alpha Dog) join Cam Gigandet (Never Back Down, Twilight), Cung Le (Tekken, Fighting), newcomer Antje Traue, and director Christian Alvart (Antibodies) to tell the terrifying story of two crew members stranded on a spacecraft who quickly – and horrifically – realize they are not alone. Two astronauts awaken in a hyper-sleep chamber aboard a seemingly abandoned spacecraft. It's pitch black, they are disoriented, and the only sound is a low rumble and creak from the belly of the ship. They can't remember anything: Who are they? What is their mission? With Lt. Payton (Quaid) staying behind to guide him via radio transmitter, Cpl. Bower (Foster) ventures deep into the ship and begins to uncover a terrifying reality. Slowly the spacecraft's shocking, deadly secrets are revealed…and the astronauts find their own survival is more important than they could ever have imagined.
Renegade: The Complete First Season (1992)Lorenzo Lamas, Kathleen Kinmont, Branscombe Richmond. Four-disc set with 22 episodes, $14.98. (Mill Creek Entertainment).
On the run & on the road! An innocent man on a quest to clear his name! He was a cop, and good at his job. But he committed the ultimate sin, and testified against other cops gone bad. Cops that tried to kill him, but got the woman he loved instead. Framed for murder, now he prowls the badlands. An outlaw hunting outlaws, a bounty hunter, a Renegade.
SMOKIN' ACES 2: ASSASSINS' BALL (2009) Tom Berenger, Clayne Crawford, Martha Higareda, Ernie Hudson, Michael Parks, Autumn Reeser, Vinnie Jones, Tommy Flanagan, Maury Sterling, Christopher Michael Holley. Includes rated and unrated versions. Extras: Deleted scenes; gag reel; behind the scenes with executive producer Joe Carnahan, producer Mike Elliott, writers Olatunde Osunsanmi and Olumide Odebunmi and director P.J. Pesce; "Confessions of an Assassin" behind-the-scenes featurette; "Ready, Aim, Fire: The Weapons of Smokin' Aces 2"; "Cue the Clown" behind the scenes stunt featurette; "The Bunker Mentality" set design featurette; commentary by Carnahan and Pesce. Blu-ray Disc adds BD Live and My Scenes Sharing. (Universal).
Federal agents once again match wits with a cadre of creative killers in this high-octane direct-to-video sequel to the popular "Smokin' Aces" in which assassins, vicious sociopaths and other murderous freelancers battle to bring down a single, high-priced target. Walter Weed (Tom Berenger) is an unassuming desk jockey at the FBI when the Bureau uncovers a plot to assassinate him. The team of degenerate, psychotic assassins includes a resourceful beauty who has a unique method of killing her prey, a power-tool wielding psychopath, a deadly master of disguise and the fan-favorite Tremor family from the original film. Full of hyper-kinetic visuals and explosive action.
WHITEOUT (2009) Kate Beckinsale, Gabriel Macht, Tom Skerritt, Columbus Short, Alex O'Loughlin. Extras: Additional scenes. Blu-ray Disc adds "The Coldest Thriller Ever Story," "Freeze Frame From Page to Screen," digital copy. (Warner).
Underworld's Kate Beckinsale plays a U.S. Marshal based at an Antarctic research station, where the continent's first-ever murder triggers a shocking mystery she must race to solve before being stranded with six months of winter darkness – and a killer – closing in. Dominic Sena (Swordfish) directs a talented cast including Gabriel Macht, Tom Skerritt and Alex O'Loughlin in Dark Castle Entertainment's action-packed thriller.