Tags
Related Posts
Share This
DVD/Blu-ray releases for July 14th, 2009.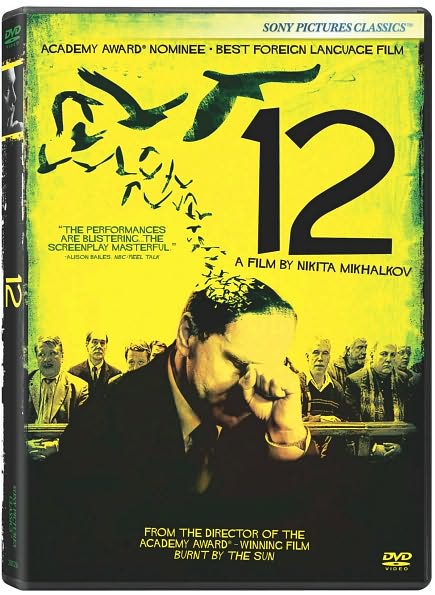 12 (2007) Director: Nikita Mikhalkov; Stars: Sergei Makovetsky, Sergey Garmash, Apti Magamaev, Aleksei Petrenko, Yuriy Stoyanov $28.96 (Sony).
"When a Chechen youth is put on trial for the murder of his stepfather, it's up to a room full of jurors divided by racism and prejudice to determine the boy's ultimate fate. One by one, each man takes center stage to confront, connect and confess while the accused awaits a verdict. Slowly the tide of opinion turns, as the jurors begin to realize their decision will forever change the course of another person's life. As they deliberate, the accused revisits his heartbreaking journey through war in a series of powerful flashbacks. Director Nikita Mikhalkov's Oscar®-nominated remake of 12 Angry Men is a brilliant look at fear, trust and the triumph of human nature."
BREAK (2009) Director: Marc Clebanoff Frank Krueger, Sarah Thompson, Chad Everett, Michael Madsen, Charles Durning, James Russo, Xin Sarith Wuku, David Carradine. $24.98 Extras: Behind-the-scenes featurette, deleted scenes, interviews, still gallery. (Cinema Epoch).
"BREAK is a stylistic noir drama, shot like a comic book come to life, about an introverted hit man named Frank who is contracted to carry out an unusual job. When the city's crime boss, known only as "The Man," discovers that he's terminally ill, he enlists Frank to carry out his own assassination. "The Man," however, is selfish and jealous, and doesn't want to die alone, and makes it clear to Frank that he is to take out the woman he loves too. When Frank discovers that The Woman is his own long lost lover, Frank alters the job. In an action-packed chain of events, riddled with dark humor and visual spectacle, Frank and The Woman take on their enemies."

THE BUTCHER (2007) Driector: Jesse V Johnson, Stars: Eric Roberts, Robert Davi, Keith David, Bokeem Woodbine. $29.99 Extras: Behind-the-scenes featurette. (Vivendi Entertainment).
"Merle "The Butcher" Hench (Roberts), a hit man with 20 years of bad luck and gambling debts he can't repay, is an ageing loser with nothing to show for himself but a lifetime of bad decisions So when he's setup as a fall guy by those he trusts, he decides to start making his own luck: Merle will set them straight and The Butcher will have his revenge."
ER: The Complete Eleventh Season (2004-5) Noah Wyle, Maura Tierney, Mekhi Phifer, Goran Visnjic, Sherry Stringfield Six-disc set with 22 episodes, $49.98. Extras: Outpatient outtakes: Unaired Scenes. (Warner).
"An aquarium worker with a live shark latched onto him…a blind woman and her guide companion (a miniature horse!)…a college boy with an arrow in his gut (his fraternity brothers were aiming for the apple on his head). Gunshot victims. Homeless children. Cardiac cases. So many patients, so little time. Year 11 of the fast-paced series brings challenges and changes to the ER. Corday and Chen weigh work and family. Abby finds that being a good doctor is as tough as being a good nurse. Ray Barnett – doctor by day, rock star by night – arrives. Carter decides to leave. He's been there from the start, a student turned leader who picked up where Greene left off. He set the tone, provided the example. His impact will endure. "


LEVERAGE: The First Season (2008) Four-disc set with 13 episodes, $39.99. Extras: Commentary, deleted scenes, featurettes: "Leverage: Behind the Scenes," "Anatomy of a Stunt Fight," "The Cameras of Leverage," "Leverage Gets Renewed" and "Beth Riesgraf's Crazy Actress Spoof." (Paramount).
"Leverage is a slick and crafty drama following a team of expert thieves that take down corrupt corporations in elaborate high-tech schemes. Insurance investigator Nate Ford (Academy Award-winner Timothy Hutton) exposed scams and recovered stolen items worth millions. But his life hit the skids when his insurance company allowed his ailing 8-year-old son to die. Years later, Nate gets even as the leader of a specialized team of thieves, computer experts and con artists that right corporate and governmental injustices against honest citizens. To expose corruption, Nate will do wrong for all the right reasons –– he will provide Leverage."
LEVERAGE is my personal pick for the week. Hutton and co seem to have fun with this light caper series. As the season goes on, the cast clearly becomes more comfortable with the roles and each other.
Jeremy
MAD MEN: Season Two Jon Hamm, Elisabeth Moss, Vincent Kartheiser, January Jones, Christina Hendricks DVD $49.98, Blu-ray $49.99 Extras: Each episode has a total of two audio commentaries; so with 13 episodes this season that adds up to 26 commentary tracks, following featurettes: An Era of style, Birth of an Independent Women, Time Capsule, Mad Men Soundtrack Music Samples (Lionsgate)
"Set in 1960s New York City, Mad Men explores the glamorous and ego-driven "Golden Age" of advertising, where everyone is selling something and nothing is ever what it seems. And no one plays the game better than Don Draper (Golden Globe® – winner Jon Hamm), Madison Avenue's biggest ad man – and ladies' man – in the business. Returning for its second season, the Golden Globe®-winning series for Best TV Drama and Actor continues to blur the lines between truth and lies, perception and reality. The world of MAD MEN is moving in a new direction — can Sterling Cooper keep up? Meanwhile, the private life of Don Draper becomes complicated in a new way. What is the cost of his secret identity?"


TOWERING INFERNO (Blu-ray)(1974) Director: John Guillermin Stars: Paul Newman, Steve McQueen, William Holden, Faye Dunaway Malcolm Atterbury, Susan Blakely, Norman Burton, Richard Chamberlain, BLURAY $34.98 Extras: Commentary by F.X. Feeney – Film Historian, Scene Specific Commentary by Mike Vezina, Special Effects Director on X3, Scene Specific Commentary by Branko Racki, Stunt Coordinator on The Day After Tomorrow, 32 Extended and Deleted Scenes and 1 Alternate Opening Sequence, Inside the Tower: We Remember Featurette, Innovating Tower: The SPFX of an Inferno Featurette, The Art of Towering Featurette, Irwin Allen: The Great Producer Featurette, Directing the Inferno Featurette, Putting out Fire Featurette, Running on Fire Featurette, Still the Worlds Tallest Building Featurette, The Write Stirling Silliphant Featurette, AMC Backstory: The Towering Inferno Featurette, 6 Storyboard Comparisons, Vintage Promotional Materials: NATO Presentation Reel, Original 1974 Featurette #1, Original 1974 Featurette #2, Irwin Allen 1977 Interview, Trailer Farm: The Towering Inferno Teaser, The Towering Inferno Trailer, The Poseidon Adventure Trailer, Interactive Galleries: American Cinematographer Article, The Towering Inferno and How It Was Filmed, Photographing The Dramatic Sequences for "The Towering Inferno" ,"Action Unit" Lives Up To Its Name While Shooting "The Towering Inferno; Stills Galleries: Shot Compositions, Publicity, Behind the scenes, Conceptual Sketches, Costumes, Cross-promo Fox on BD Trailers
"A dedication ceremony at the world's tallest skyscraper turns into a high-rise catastrophe when a defective wire in its systems-control panel causes an electrical flare-up. Within minutes the gala event turns into a hellish inferno, as a raging fire traps society's most prominent citizens on the top floor. Winner of three Academy Awards, this spectacular suspense thriller features dazzling special effects and a star studded cast including Paul Newman, Steve McQueen, William Holden and Faye Dunaway. "