Tags
Related Posts
Share This
Ferguson and Simmons are featured in this week's giveaway
Crimespree magazine, in conjunction with Friday Reads Facebook page, is offering you a chance to win copies of THE LOST BOYS SYMPHONY by Mark Andrew Ferguson and THE FIFTH HEART by Dan Simmons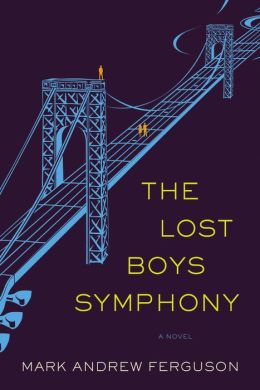 THE LOST BOYS SYMPHONY by Mark Andrew Ferguson
A startingly original, genre-bending literary debut in which a lovesick college student is abducted by other versions of himself from the future.
After Henry's girlfriend Val leaves him and transfers to another school, his grief begins to manifest itself in bizarre and horrifying ways. Cause and effect, once so reliable, no longer appear to be related in any recognizable manner. Either he's hallucinating, or the strength of his heartbreak over Val has unhinged reality itself.
After weeks of sleepless nights and sick delusions, Henry decides to run away. If he can only find Val, he thinks, everything will make sense again. So he leaves his mother's home in the suburbs and marches toward the city and the woman who he thinks will save him. Once on the George Washington Bridge, however, a powerful hallucination knocks him out cold. When he awakens, he finds himself kidnapped by two strangers–one old, one middle-aged–who claim to be future versions of Henry himself. Val is the love of your life, they tell him. We've lost her, but you don't have to.
In the meantime, Henry's best friend Gabe is on the verge of breakdown of his own. Convinced he is somehow to blame for Henry's deterioration and eventual disappearance, Gabe is consumed by a potent mix of guilt and sadness. When he is approached by an enigmatic stranger who bears a striking resemblance to his lost friend, Gabe begins to fear for his own sanity. With nowhere else to turn, he reaches out to the only person who can possibly help him make sense of it all: Val.
The Lost Boys Symphony is a beautiful reminder of what it's like to be young, lost, and in and out of love for the very first time. By turns heartfelt and heartbreaking, Ferguson's debut novel boldly announces the arrival of a spellbinding new talent on the literary stage, in a master feat of empathy and multilayered storytelling that takes adventurous literary fiction to dizzying new heights.
About the author:
Mark Andrew Ferguson is a book marketer, graphic designer, and author. The Lost Boys Symphony is his first novel. He lives in Connecticut with his wife and son.
THE FIFTH HEART by Dan Simmons
In the tradition of Drood, a historical mystery in which Sherlock Holmes and Henry James team up to solve a literary puzzle.
In 1893, Sherlock Holmes and Henry James come to America together to solve the mystery of the 1885 death of Clover Adams, wife of the esteemed historian Henry Adams–member of the Adams family that has given the United States two Presidents. Clover's suicide appears to be more than it at first seemed; the suspected foul play may involve matters of national importance.
Holmes is currently on his Great Hiatus–his three-year absence after Reichenbach Falls during which time the people of London believe him to be deceased. Holmes has faked his own death because, through his powers of ratiocination, the great detective has come to the conclusion that he is a fictional character.
This leads to serious complications for James–for if his esteemed fellow investigator is merely a work of fiction, what does that make him? And what can the master storyteller do to fight against the sinister power — possibly named Moriarty — that may or may not be controlling them from the shadows?
To be entered in the drawing shoot an email over to Jon?@crimespreemag.com (remove the question mark) And put CONTEST in the subject line. Also please put your address in the body of the email.
We will pick the winners on April 3rd.