Tags
Related Posts
Share This
Film Review: MAD MAX – FURY ROAD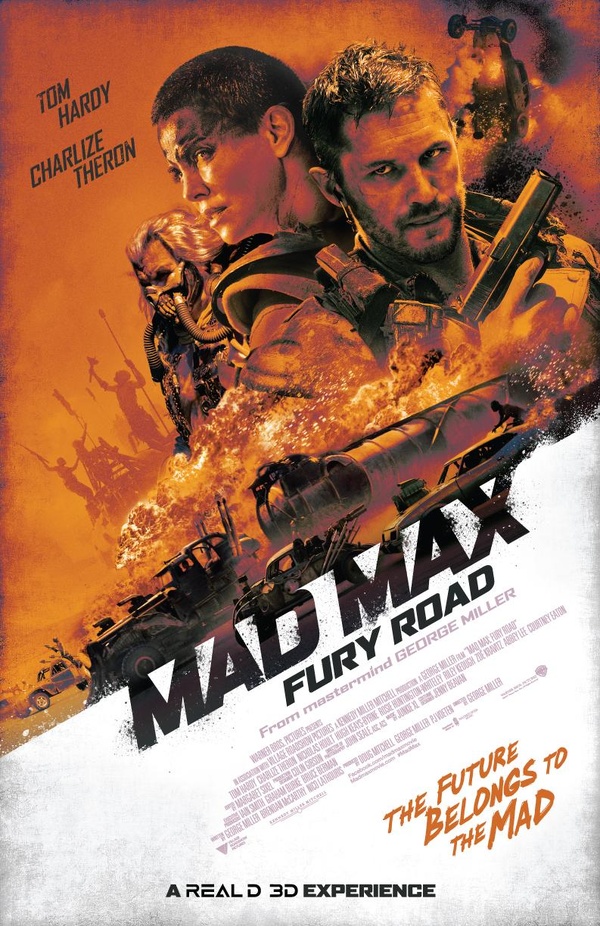 MAD MAX: FURY ROAD
Directed by George Miller
Written by George Miller and Brendan McCarthy
Starring: Tom Hardy, Charlize Theron, Nicholas Hoult
It is quite an achievement for a director to come back thirty years later and make a sequel that takes every strength in his original film and raises the bar. Figuring out how to use the technology that has been developed in the meantime is in itself amazing. Although I am sure Miller had ample help with this, he had to incorporate it into his vision of the film. It's hard to imagine a better action film this summer. Or in many summers. And I am not generally a fan of such films, although I was a fan of the original MAD MAX. But then I was young and less stodgy.
Max (Hardy) has been kidnapped and forced into service in a desert wasteland where water, gas and food are in short supply. When Furiosa (Theron) is sent on a reconnaissance mission, she goes off course and the emperor sends his army, (led by a shackled, masked Max) after her. Here we have the first knock- your-socks off action sequence. Every vehicle, every character, every weapon seems to have a personality of its own. Most seemed made or forged as a result of earlier battles. Quite a sight to look on.
Then the movie settles down, and it is women who take center stage. We see Miller has a feminist text in mind here. These are the survivors who can both tame the beasts and continue the species, and he gives them their due.
But it is Hardy's pained face (he has suffered his own losses in the apocalypse) that haunts us. He can do more with his eyes than any actor I can think of. Even when that horrific mask covers his entire face, his eyes bear witness for us. And Theron is tough enough to be a perfect helpmate. Great casting although there is no time wasted on romance. There are in a fight for their lives.
I can't imagine anyone not enjoying this fast-paced, relentlessly inventive two hours.
Patti Abbott
In addition to being the Crimespree Senior Film Critic, Patti has penned numerous short stories and her debut novel, CONCRETE ANGEL, will be published on June 9th . She hosts a look at Forgotten Books every Friday with readers, writers and reviewers at pattinase.blogspot.com. She hopes you'll join in.