Tags
Related Posts
Share This
Film Review: THE PAST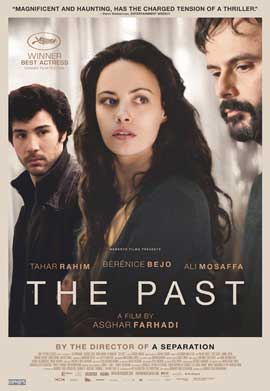 THE PAST (in French and Farsi with subtitles)
Writer-Director, Asghar Farhadi
Starring: Ali Mosaffa, Berenice Bejo, Jeanne Jestin, Elyes Agius, Pauline Burlet, Tahar Rahim
I have been waiting for another movie from Farhadi since THE SEPARATION, and although this does not quite equal the power of that film, it is very good indeed.
THE PAST is about divorce and the ripple effects it has, especially for the children. The script is particularly complicated in terms of those children: whose children they are and how they absorb this event. The movie is the proverbial onion, where layer upon layer is peeled away, each one having its own set of players, its own particular pain.
When Ahmad (Mosaffa) returns to Paris from Iran to finalize his divorce from Marie (Bejo), he is ill-prepared for the way her life has changed. He has been gone four years and scarcely recognizes the kids. (It takes a while to see why that is not as heartless as it seems). In particular, the teenage daughter (Burlet) is particularly upset with her mother who is involved with a man whose wife is in a coma. She feels she has just replaced Ahmad with a younger look alike.
The cast of players is strong and each character has secrets and grievances of his own. Some are never revealed—as happens in life. I really admire a director who lets his characters develop slowly, not imposing quick resolutions on them. The streets of Paris have never looks shabbier because this arrondissment is not the one we normally visit. These are not the swank flats or country houses we usually find ourselves in. This is the kind of domestic drama that gives the genre a good name.
Highly recommended.
Patti Abbott