Tags
Related Posts
Share This
Film rights sold for Gregg HURWITZ's THEY'RE WATCHING.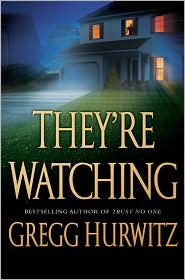 The film rights to THEY"RE WATCHING, the forthcoming thriller from Gregg Hurwitz, have been sold to Big Kid Pictures.
Patrick Davis grew up at the movies – they shaped everything he knew about life from then until now. At 18, he moved across country to attend college in Los Angeles, with only one goal in mind: to become a part of the movies he loved so much, to write a movie and see his name on the big screen. He met the love of his life, married her, and finally got his big break when his screenplay, They're Watching, caught the attention of agent. Soon though, his Hollywood dreams crumble, and his storybook marriage hits a snag. Finally, DVDs start being delivered to his house – DVDs which show that someone is watching him and his wife, that the two of them are being stalked and recorded by cameras hidden around and within their house. Then the e-mails start and someone offers to fix everything, to take the mess his life has become and make it all right. Patrick figures it's the offer of a lifetime.
But Patrick couldn't be more wrong. With every step he is deeper and deeper into a web of intrigue that threatens everything he still has and values in this world. Before he knows it, he's in and in deep, and the only way out is to outwit and outplay his unseen opponents at their own game.
The plan is for Big Kid Picture exec David Dobkin to direct. Dobkin previously directed WEDDING CRASHERS, SHANGHI KNIGHTS and CLAY PIGEONS. Craig Wright will be handling screenwriting duties. Wright is an acclompished playwright and has worked in television with shows like BROTHERS AND SISTERS, SIX FEET UNDER and LOST.
THEY'RE WATCHING will land in store on July 6th.