Tags
Related Posts
Share This
Five albums and books that changed my life: M.P. Cooley
Purple Rain: PURPLE RAIN was the first R-rated movie I snuck into. I had to—I had listened to the album endlessly and needed to see Prince perform. Prince had already blown the minds of me and my Catholic junior high school friends—we parsed the lyrics to "Little Red Corvette" endlessly—but the songs on Purple Rain cut through my teenage existence like a buzzsaw, giving me an awareness of things that I couldn't yet name: failure followed by triumph, fractured families, and desire. I still listen to it regularly 30 years later, my current favorite song being "The Beautiful Ones".
Sue Grafton's C IS FOR CORPSE: With Sue Grafton, I didn't start with A, picking up C is for Corpse randomly while on a family vacation in high school. The stories had twists and turns that pulled me along, but it was Kinsey that hooked me. Kinsey was a scrappy loner with a clever wit who solves crime with doggedness, and it was while reading Grafton's book that I thought for the first time I want to write a book like this.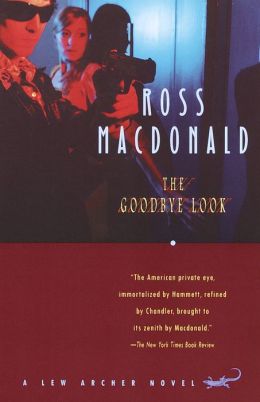 Ross Macdonald's THE GOODBYE LOOK. I picked The Goodbye Look, but really love all of Macdonald's works for their writing style and compassion. Archer is an understated hero, and Macdonald has a fluid, almost conversational style with shots of lyricism: "A pale moon hung in the corner of the sky, faint as a thumbprint on a windowpane." Macdonald acknowledges the sorrow that accompanies murder, always making the corpse the main character, and treated the fragility of his characters with honesty, including Archer, who says "I have a secret passion for mercy. But justice is what keeps happening to people."
Margaret Atwood's THE ROBBER BRIDE. Female heroes are important to me—June Lyons can out of that love—but when I need to get in touch with the evil women do I often re-read Margaret Atwood. The Robber Bride is a favorite. Zenia's manipulations take different forms depending on who she's conning—she has more than money and sex in her toolkit—but by the end both the readers and, surprisingly, her victims are aware of the gifts she's given them.
Sleater-Kinney, DIG ME OUT: Another one where I had a hard time picking just one from an artist. Sleater-Kinney was my favorite band in the 90s. Dig Me Out has Sleater-Kinney's characteristic call and response vocals, driving drums, and big guitars, with my favorite tracks including the titular "Dig Me Out", "Words and Guitars", and "One More Hour". I saw them recently, and even though their audience was fighting for the seats rather than the moshpit (because its tiring to stand for three hours when you're an old person) Sleater-Kinney still blew the doors off the place. Their new music was solid, and I'm happy to report that Carrie Brownstein still channels guitar gods while performing, doing windmills like Pete Townsend and playing guitar while pushing herself across the floor like Angus Young.
M.P. Cooley
M. P. Cooley's crime novel Ice Shear was named one of O, The Oprah Magazine's Best Books of Summer 2014 and was called "an excellent debut" by Publishers Weekly in their starred review. A native of upstate New York, Cooley currently lives in the San Francisco Bay Area. FLAME OUT, the second book in the June Lyons series, is in stores now.